Chess Club Meeting Weekly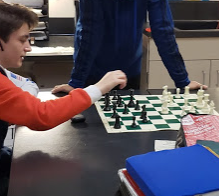 Chess club is an entertaining and enjoyable experience. Many people love to play chess, and this is a great opportunity to learn and practice playing it. Some people are new to playing chess while others have played for years, but that doesn't stop the chess club from having fun everyday after school. 
Mr. Porth is the Chess club coach. He works hard every year to put together the chess club so kids can play, learn, and have fun. He has been a coach since 2000 and has had 8 state championship teams. Porth is the President of the Idaho Chess Association, and runs all of the chess tournaments in Idaho. 
He has brought many teams to national level tournaments, and last year Porth had three players qualify for state. He said, "I am hoping to have the whole team there (state) this year."
Many people are timid about learning chess because they think they aren't smart enough. But playing this sport can raise your IQ and improve other skills like calculation and organization. Also, it doesn't have to be very competitive. 
Chess is a great subject to study. "There are more books written about chess than any other subject and it is the second largest organization in the world, behind soccer." says Porth. Also, chess is shown to enhance math and reading skills. 
Mr. Porth says, "I am excited to have students in chess club here at Lakeland High School and I look forward to the growth of each player." He also says, "I encourage students to join chess club and begin learning the world's oldest game that was developed to help the kings learn strategies."