Powder Puff 2023
In this year's powder puff game, the sophomores and juniors defeated the seniors and freshmen 21-0.
Regan Wright scored all three touchdowns for the sophomore and junior team. Wright is also a varsity soccer player and track runner for Lakeland. She credited her coaches, Lila Kiefer, and her offensive line for her success in the game.
"I think football is easier to play than most other sports," Wright added.
For the senior and freshman team, freshman Alyssa Ryckman made several highlight reel catches over defenders when her team needed her most.
Both teams were coached by male football players from their respective classes.
Reilly Saxe made sure his team was well-coached going into the game. He installed an entire playbook and made halftime adjustments during the game.
"Defensively we had to seal the edge and stop Alyssa Ryckman. Offensively our plan was to control the ball, run a lot and take a shot if we needed to," said Saxe.
Powder puff football is an excellent opportunity for girls to participate in a primarily male-dominated sport in front of the school, community, and football players.
While some might think that a flag football game would not be exciting, others believe it makes the game even more intense. The lineman fought hard in the trenches, and the defense made lots of contact when attempting to strip flags.
The game was very competitive, and both teams made many big plays. Coaches were even feuding around the 50-yard line at one point in the game.
Powder puff football is exciting to watch, and the Lakeland community will continue to enjoy this tradition.
Leave a Comment
About the Contributor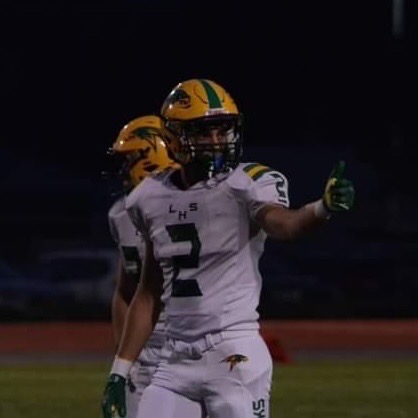 Ezra Benson, Sports Writer
Varsity Football and Track player. I like to ride dirt bikes, hunt, and fish.