Hawks Place at State Tennis Tournament
Despite their nerves leading up to the event, the Lakeland Tennis team did excellent at the state tournament in Boise this past weekend, May 19. 
Brady Hanna and Cole Andres, the boys' doubles team, never gave up throughout their matches which paid off in the end as they placed fourth overall. The girls' doubles team, Ellie Carlson and Addie Raebel, though not taking home a medal, still did very well throughout their four matches, placing sixth. Ben Ryan also played in-state but lost his first two matches, preventing him from placing well at state. 
Hanna and Andres started off slightly rocky as their opponent, Blackfoot, maintained a close score throughout the match and even got ahead a couple of times in a few games. Andres and Hanna returned for the win, winning the first set 6-3 and the second 6-2. 
As they began the second match, they hoped to stretch their winning streak from one to two, but they were unsuccessful. The boys played Woodriver, and both teams were even in score throughout most of the match, but Woodriver won, putting Lakeland in the consultation bracket. 
Going into the consolation bracket, they knew they had a chance to win against those who had lost as they were in their heads. Andres and Hanna performed great, staying optimistic and out of their heads which was the key to their success in the next three matches. They dominated their opponent in their third match against Canyon Ridge, winning 6-0, 6-0. They carried this win when they played against Bonneville first, losing the first set 2-6, but returned to win the following two sets 6-2, 11-9. They could stretch their two-win streak to three after playing against Century, winning 6-4, 6-4. Nerves had surfaced in their last match as it determined whether they would place third or fourth in this state tournament. 
Andres and Hanna played the best they could, but Twin Falls was slightly above their skill level. Twin Falls remained ahead during the first half of the match, and the Hawks came back, giving them a run for their money, winning more games than in the last set. Though they put up a good fight, the duo unfortunately lost their final match 6-2, 6-4, putting them in a fourth-place finish for state. 
"Overall we played really aggressively all day and achieved our goal which was to medal in state," Andres said. With the boys' double teams doing so well, it gave the girls' doubles hope to also place well in the tournament. 
Carlson and Raebel did exceptionally well in their matches, starting off strong against Minico, winning 6-4, 6-0. Their placement in the winning bracket was short-lived as they lost their second next match against Bishop Kelley 6-1, 6-0, putting them in the consultation bracket. Though this was discouraging, the chance to take home a medal was enough for them to push forward in their next few matches. Carlson and Raebel played well in their next game against Hillcrest, winning 6-4, 7-5. 
"It was the best we ever played. We just had a really good mentality, good communication, and we had a really good placement with our shots," Carlson said. They had confidence they could win their next match, but the game showed otherwise, as it was a struggle for these Lakeland girls. "We were excited going into the match, but nothing really went our way," Raebel said. Their goal was to make it to the second day of state, and they did. Despite this, they quickly got in their heads and did not play to the level they had hoped they would. "We were thinking too much and not just playing the game," Raebel said. The two girls knew it would probably be their last match, so they changed their mindset to make the best of it. "We just tried to have fun and savor the moment," Raebel said. Despite this, they ended with a sixth-place finish. 
Ben Ryan also played in state but did not advance to the extent that he hoped. Ryan lost his first two matches despite giving it his all. Ryan lost his first match 6-0, 6-1, and the second 6-2, 6-3.
Leave a Comment
About the Contributor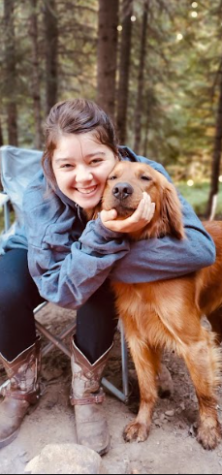 Sammie Laird, Sports Writer
Never put off till tomorrow what you can do the day after tomorrow just as well