State Success
The 4A track and field state championship took place in Boise, Idaho, on May 19 and 20. 
As a team, the Lakeland boy's team took 12th place, and the girls took 14th. 
Ziya Munyer, a sophomore at Lakeland, was the Hawk's only state champion. Munyer took first place in the triple jump with a leap of 37 feet and 3.75 inches. 
The boy's 4×100-meter relay earned second place with a time of 42.66 seconds. This came as no surprise as the team, made up of Thomas Calder, Nick Nowell, Terry Edwards, and Weston Saputski, has performed incredibly all season. The four have shattered school records and personal records at various points in the season. 
"It went pretty well. The other schools were just faster than us, and there's nothing you can do about that," said Saputski. 
In the 4×200-meter, Saputski and Nowell had a faulty handoff and dropped the baton, messing up their race. If this could have been avoided, the boys expected to have placed in the top three, but in the end, they accomplished everything they wanted to. 
 "I learned to not take anything for granted because you might only have one chance," said Saputski. 
The girl's 4×100-meter relay, made up of Regan Wright, Chloe Charvier-Soleillet, Michaela Palaniuk, and McKenzie Palaniuk, placed second also, with a time of 50 seconds even. 
Preston Jeffs earned fourth place in the discus with a throw of 144 feet and 11 inches and sixth in the shot put with a throw of 51 feet and 2 inches. 
"I feel great. I finished higher in discus than I was predicted to," said Jeffs, who was expected to place twelfth heading into the meet. 
Jeffs says that he is ready for this season to come to a close because he is ready to begin his future. He has almost completed high school and will soon head into playing college football. 
Other placers include Cody Morse, who placed seventh in the pole vault. Landree Simon and Kenna Simon both leaped 5 feet in the high jump, placing seventh and ninth, respectively, due to their makes and misses.  
State was very successful for the Hawks, and most athletes are very pleased with their performances and what they were able to accomplish. 
Leave a Comment
About the Contributor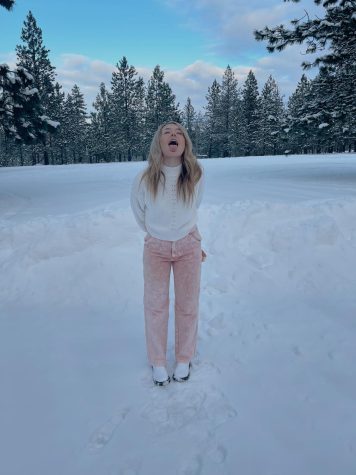 Rylee Dragon, Sports Editor
Sports editor, photographer