Heavy Metal
Cole Peterson is a sophomore at Lakeland High School. He has been in the Lakeland district since the very beginning. Peterson is a very laid-back person; you can find him smithing, playing video games, or reading a book.  
Q: How do you feel about the school year ending? 
A: "I think that the school year went by really quickly. Freshman year was quick but not as fast as my sophomore year, it just seemed to go by in a blink." 
Q: What is the scariest thing you have experienced? 
A: "When I was in 6th grade, my two dogs got lost in a blizzard; one was fourteen and the other was four. They were gone for 2-3 days before we found them again, the youngest is a husky so we were not as worried but it was definitely scary with them being lost out there." 
Q: What are you looking forward to the most for next school year? 
A: "I am excited for K-TEC industrial mechanics 3. Welding is super fun and I am excited to have classes off campus. I am also excited for weights class; I am currently taking athletic conditioning, which is not a bad class, I just prefer to lift weights." 
Q: What is one of your biggest pet peeves? 
A: "One thing I hate is the smell of Axe body spray. It is way too strong and it does not smell good in the nose. Along with that, I also hate it when people spray it in class because it can like miss and spray other people." 
Q: What are some of your hobbies? 
A: "I do weight lifting, it helps calm down the nerves and is super calming. I also weld, play video games and I am slowly getting into blacksmithing. I guess I am drawn to these because I like hands-on work and I am able to use my knowledge to work with it." 
Q: How has welding/smithing been a part of your life? How long have you done it for? 
A: "I have taken welding since freshmen year. It is nice having a break in between sitting down at a desk. Smithing is more of a hobby, I do it on my own. For Father's Day, I was able to make some stuff for my dad and brother. My brother did it in high school and I like having things in common because it's nice to talk about."  
Q: Who is your favorite teacher and why? 
A: "It is a tie between Coach Long and Mr. Dunn, they are both really good teachers, they are encouraging and energetic." 
Q: What kind of music do you listen to? 
A: "I listen to a lot of music. It varies from rock, country (very select), songs about books and video games and some rap. Music is really relaxing for me it can be full metal or country. It is nice with welding and lifting weights it helps focus and dial down and get the job down more efficiently." 
Leave a Comment
About the Contributor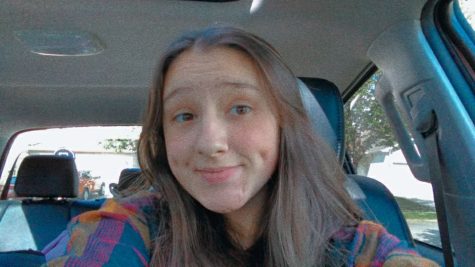 Florence Bruns, News Writer
5/4 people admit they are bad at fractions