Tracking Down the State Title
The Idaho 4A/5A Regional Championship track and field competition occurred on May 11, and 12. This meet allowed athletes from Lakeland to place high enough to go to the state tournament in southern Idaho. 
Despite numerous athletes pulling through for the Hawks and placing highly individually, the girls' and boys' teams each placed third. Both came up short of second place by only a few points. 
In the boy's varsity 100-meter, Weston Saputski took first place overall with a time of 11.41 seconds. Twins, McKenzie and Michaela Palaniuk took second and third place in the girl's 100-meter, respectively, with times of 13.12 and 13.52 seconds. 
Terry Edwards placed first in the boy's 200-meter with a time of 22.63 seconds. The Palaniuk sisters took second and third in the girl's 200-meter race as well, with times of 26.91 and 27.93 seconds.
Edwards took second place in the boy's 400-meter with a time of 50.01 seconds. Sophomore, Landree Simon, took second place in the girl's 800-meter with a time of 2 minutes and 24.85 seconds. 
Once again, the boy's 4×100-meter relay defeated their opponent, as they have dominated all season. The team made up of Thomas Calder, Nick Nowell, Saputski, and Edwards, got first place with a time of 43 seconds even. The girl's 4×100-meter relay performed well again, which was no surprise. Regan Wright, Chloe Charvier-Soleillet, and the Palaniuks earned themselves first place with a time of 50.07 seconds. 
Although injuries and staying healthy has been the biggest obstacle for the boy's this season, it has not stopped them. 
The same boy's relay team also took first place in the 4×200-meter relay with a time of 1 minute and 29.66 seconds. The exact girl's team barely gave up first place in the girl's 4×200-meter relay to the Sandpoint Bulldogs, finishing in second with a time of 1 minute and 48.31 seconds. 
Lakeland's girl's 4×400-meter relay consisting of Karstyn Keifer, Ziya Munyer, Landree Simon, and Charvier-Soleillet battled against Sandpoint but ended in second place with a time of 4 minutes and 17.8 seconds. 
The boy's team has shattered the 4×100-meter relay a single time and broken the 4×200-meter relay three times, causing them to exceed numerous expectations. Nowell, a part of the relay team, expects that at state they will compete to win and get first or at least be on the podium after placing in the top three. 
"We need to stay calm and relax and not freak out that we have to win," said Nowell. Ultimately, the group plans to simply keep doing what they have been doing all season. 
Preston Jeffs took first place in the boy's varsity shot put with a throw of 48 feet and 9.75 inches. Jeffs also took first in discus with a throw of 131 feet and 9 inches, beating second place by as much as 18 feet. 
Ben Roth earned second place at the meet in the boy's high jump with a leap of 5 feet and 8 inches. Kenna Simon earned first place in the girl's high jump, clearing the bar at 5 feet even, followed by her sister, Landree, who jumped 4 feet and 10 inches, earning the second place spot. 
After doing very well in the 800-meter and high jump, Landree Simon will be amongst the athletes headed to state. Despite feeling that the track season has been long and demanding, Simon feels her performance has been good and is ready to see what else she can do. 
"State should go well, and I'm excited because it will be good weather down there," said Simon. 
Overall, the largest challenge for the team may end up being the weather. Given the high temperatures, it could be difficult to remain hydrated and run through the heat.
Cody Morse placed second in the boy's pole vault with a height of 13 feet and 7 inches. 
Katherine Cameron received second place in the girl's long jump with a leap of 16 feet and 5.5 inches. 
Lastly, Gabe Means jumped 41 feet and 1 inch in the boy's triple jump putting him in second place, barely short of the top spot. Munyer was far ahead of her competitors in the girl's triple jump, placing first with a jump of 36 feet and 10 inches. 
Those that performed exceptionally last week will visit Mountain View High School in Meridan, ID, to compete on May 19 and 20.
Leave a Comment
About the Contributor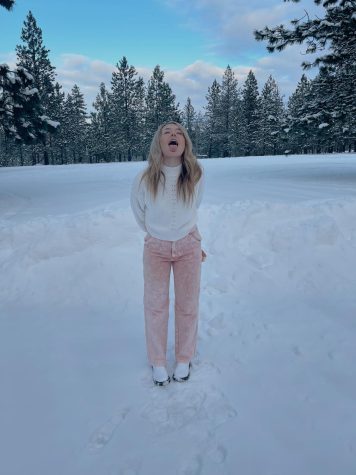 Rylee Dragon, Sports Editor
Sports editor, photographer