Coming Together
Take one …
Take two … 
Take three … 
On May 5, Lakeland High School's student council organized the annual lip dub.  
At the beginning of fourth period, all students were lined up throughout the halls to participate in an honored tradition. 
With all the hard work and time spent preparing, the student council was able to pull it off in three tries. 
As a route was taken throughout the school, students lip-synced the lyrics to "Rude",  "I Ain't Worried", "What Makes You Beautiful", "I Wanna Shine", "Let You Down", "Blinding Lights", "Classic", "Green Green Grass", "Geronimo" and "Everybody Wants To Rule The World." 
Picking the songs was definitely one of the harder parts of the process, but once that is done, it is much easier. 
Making sure the songs blended well together showed itself to be especially tricky, but the student council was determined to make sure it sounded as best as possible. 
Student council then decided the route they wanted to take and where certain groups stand. 
Student council worked extremely hard and spent a great deal of time working to complete the lip dub. 
Michael Wee, one of the chairmen for the lip dub, worked really hard to make sure everything was as smooth as possible. 
"There were definitely a few things we wanted to fix from last year so we could have the best lip dub yet," Wee said. 
There were many things that needed to be handled and prepared ahead of time to make sure everything ran smoothly. 
Allison Knoll, the advisor for student council, barely had to raise a finger to help with the lip dub. Thanks to her students, she was able to sit back and watch it happen. 
"My students did a great job planning for it, so I had to do very little," Knoll said. "Luckily, this is not the first lip dub we have done so we had some past experience to draw from."
When deciding what route they wanted to take for the lip dub this year, they decided that it had to be shorter. Wee wanted to find a route that showed an honest representation of LHS but also was not too long. 
Another issue that was run into was the classic North Idaho spring weather. 
"We had the route designed so that multiple groups (including the band with their instruments) were outside, and it decided to literally rain on our parade," Knoll said. "Luckily, with only a small amount of stress, we were able to plan a new route through the school instead."
Despite the curveballs thrown their way, student council came together to figure out the most efficient way to accomplish the lip dub. 
One thing student council also wanted to focus on was the transitions between singers. 
Wee wanted to make sure they could pull off seamless student swaps so the dub would look better than previous lip dubs. 
"I want to thank all of the teachers for helping get the kids to their new positions and also thank all of the students for bringing their school spirit," Knoll said. 
Leave a Comment
About the Contributor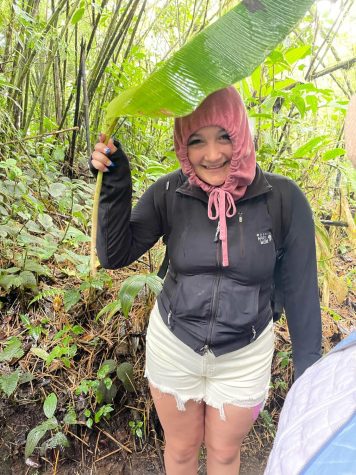 Samantha Fuller, News Editor
Goodest writer in the class...