Hawks Season Comes to Anticlimactic End
The Lakeland Hawks baseball season ended prematurely on May 8 at War Memorial Field. 
Although Lakeland faced the Moscow Bears in the district game, they played in Sandpoint, ID. 
Upon beating Moscow, the Hawks would have been set to play two games against Sandpoint. From there, they would have needed to win both games in order to travel to the state tournament. 
Earlier in the season, Lakeland split with Moscow twice, playing them in two separate doubleheaders, but the boys were not able to come up with a third win. 
Lakeland's left bases loaded in the first inning with no outs, but three outs immediately followed. Moscow was able to put a single run on the board in the first due to a well-hit double. 
Each team was three up, three down in the second, third, and fourth innings leaving room for no runs. 
Until the fifth inning, Moscow was only up 1-0, but fielding errors put the Bears further ahead. 
"Overall, the game went poorly, and we could have done better than we did. Batting was specifically what we struggled with," said Tadhg Ellwood. "Errors in the field are what killed us in the end." 
A play including a missed fly ball turned the momentum in the sixth inning for the Hawks, having a considerable impact on the outcome of the game. 
"That play cleared the bases and put them up by three more runs, which kind of demoralized us," said Jace Cooksey. With this, the Hawks, who were already down by three, were down 5-0. 
The loss was disheartening for the Hawks because they knew they were capable of defeating  Moscow. Most of the Bear's runs were scored off of errors, which the boys knew were avoidable. In the end, it came down to more of a mind game than a baseball game for the boys, and they got into their heads. 
With the season coming to a close, many players are done with high school baseball for good since they are graduating in a few weeks. Others will return next season with high hopes, ready for a fresh start. 
"I am disappointed in our season, but we still have another year to make things work," said Jace Cooksey. 
Leave a Comment
About the Contributor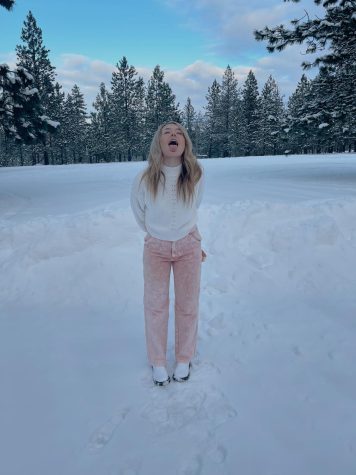 Rylee Dragon, Sports Editor
Sports editor, photographer