Doubling Down
April and May at Lakeland High School are filled with various spring sports. 
These include track and field, baseball, softball, and tennis. For tennis players, the ability to compete comes with a potentially tricky decision.
Choosing your partner is something every player wishing to play in doubles must consider. Every athlete knows the decision will either make or break a season. 
Sophomore twin sisters, London and Lauren Peterson, are doubles partners for Lakeland. 
Unlike some athletes who have to put intense thought into their partners, the Petersons knew they would be partners when the season began. They each believe they share a much more unique bond than other teammates. 
The twins faced Post Falls High School in their first game, handily winning the match. 
After being asked if they believe they have an advantage due to being twins, the sisters answered confidently. 
"We have an advantage. We have twin telepathy and the advantage to yell at each other without getting in trouble," said London Peterson. The twins feel as if they can understand what one another is feeling and thinking during essential moments. 
With this being said, the twins know not everything in tennis will come easy, and they cannot blame performing well solely on their relationship. 
"We always play against each other for singles at practice, and we work on perfect hits, focusing mainly on coordination," said Lauren Peterson. 
The Petersons have been winning a majority of their matches and are currently in first place for district qualifications. As long as they keep up the hard work, London and Lauren expect the season to keep going well. 
Further doubles partners include Keona Roemermann and Aspen Wike. 
As best friends, it seemed to be a given that Roemermann and Wike would be partners. 
"We knew as soon as we made the impulsive decision to sign up," said Wike. 
This was the first year each athlete chose to compete in tennis, but they are already confident they will continue to play next year. 
So far, the two have had a good time this season, and they won their first-ever game. In the most recent game, they pulled off the win once again. This entire season, the duo has only lost a single game. 
Knowing that the season is coming to an end leaves athletes with mixed emotions. 
Wike is sad that the season is coming to an end, but it also leaves her with more opportunities. Now, she has the ability to catch up on homework and focus on other sports she has not been able to put as much effort into. 
Lastly, Toby Tebbe and Alex Brown are yet another doubles duo. 
Tebbe has been playing for two years, and Brown has been playing for four. 
After being friends for a long time, it seemed obvious that the two would be partners. Even though they did not want to do singles again after doing it last season, both decided to play together.
"We were already friends beforehand and we played basketball together so it just made sense," said Brown.  
They both agree that their season has been good and is one to remember. 
"We have a winning record," said Tebbe. The ability to win more games than losing is impressive on its own, and not something that everyone can pull off. 
The only losses they have suffered were against Coeur d'Alene and their first game against Sandpoint. In their most recent game, Tebbe and Brown beat Sandpoint 6-4 and 6-2. 
Unfortunately, the tennis and other spring sports seasons are coming to a close. The district tournament will be held Saturday, May 6, against Coeur d'Alene High School. Following this, the last games until next year will be on May 12.
Leave a Comment
About the Contributor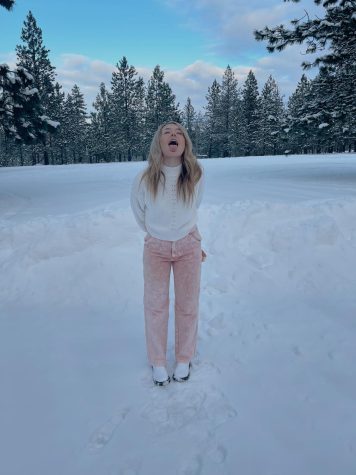 Rylee Dragon, Sports Editor
Sports editor, photographer