My A.I.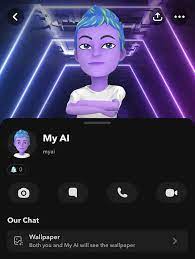 What is A.I.? A.I.(artificial intelligence) is a computer-like program similar to the internet that responds as if it were a human.
A.I. has been tested for a while now, but it has recently been released for public use with easy access.
The newest addition to the A.I. franchise is the My A.I. chatbot, which is an exclusive A.I. available for Snapchat users.
With early development, those who had Snapchat+ were the only ones who could access the A.I. while it was in testing.
Recently, this A.I. has been released for every Snapchat user. The chatbot will remain pinned to the top of your chats unless you have Snapchat+, which gives you the ability to unpin the A.I.
A.I. can give you answers to nearly every question quickly. One can also play games and converse with the A.I. 
Although many people like this A.I., there are people who get frustrated by it and the fact that it remains at the top of their Snapchat list.
There are those who worry about stealing information and those who appreciate this outstanding technological advancement. 
The key benefits of My A.I. are not super clear other than using it as an online companion. 
The question is: Will people start deleting the app due to their hatred of artificial intelligence?
An anonymous student shares their thoughts and opinions on My A.I.
The student claims to love A.I., stating it has many benefits and is a good resource. 
"Whoever invented this is a genius, and they must be loaded."
"This is the point where our education is going to change.  The A.I. know all the answers; there is no need to be in a classroom."
The student claims that this is a great resource, but soon it will take over traditional learning.
Will the A.I. change the world for better or worse? Do you approve?
Leave a Comment