'The Best Years'
Iren Davis is a junior at Lakeland High School. He came into the Lakeland District in eighth grade and has been here ever since. He is part of the baseball team, you can find him at home playing video games, and in the winter, he wrestles.
Q: How do you feel about your senior year being next year? 
A: "I am looking forward to it. Junior year has kinda sucked, I am not excited for ISATs and SATs. I should be able to drive by then, life has been too busy/crazy to get it, so I guess I am excited about that. I don't have much planned for my senior year, so nothing super exciting."
Q: What are you going to college for? 
A: "I plan on going into fire science. I do want to become a firefighter, but I am unsure of what field I am going into I do know that futuristically I do want to do that. I have thought about leaving Idaho because it can be kind of boring, and I want to go and be helpful in places that are needing it."  
Q: What is something big coming up in your life? 
A: "I am getting surgery right after baseball is over. Last year in wrestling, I tore my shoulder, thankfully I was able to finish the season but I was not able to do my best since I could not use my left shoulder. I was also able to wrestle this year, it was just very painful."  
Q: What is your favorite accomplishment in high school so far? 
A: "We just beat Coeur d'Alene in a super close game for baseball. I am also not very smart, but somehow I manage to keep straight A's." 
Q: What celebrity would you have play your role in a movie about your life?
A: "Nicolas Cage, I have drawn and painted him many times for art projects. I guess like how he overacts in his movies and I think that he is a good actor. Everyone that you ask would agree with my choice." 
Q: If you had to change your name, what would it be?
A: "Since I was very little, I wanted to change my name to Nicolas, not because of Cage; it's just a coincidence that I wanted to change my name to that at a young age. Growing up, I just didn't like my name, but I think I have come to enjoy it. I do like how it is unique, my last name is probably one of the most common, and my first name kind of balances it out." 
Q: If you were invisible for one day, and if you could change that superpower, what would it be?
A: "As wrong as it is, I would probably rob a bank just because you could do that while being invisible. I would definitely choose teleportation, ever since I have thought about it a lot, and when you think about it solves every problem." 
Q: Do you play any instruments? 
A: "I played the guitar for 4-5 years. I started in 7th grade and picked it back up in 9th. I just wanted to take a music class, and at the time, the guitar was available. I am glad I did guitar, but I do miss playing saxophone. I played for three years and I liked the instrument but not the class. After playing both for a few years think I would play saxophone but guitar would definitely come first." 
Additionally from Iren: 
"I would like to shout out Nicolas Cage for inspiring everything in life."
"I think sophomore year is one of the best years of high school because you are not the under-under classmen, and you are kind of getting used to high school. Junior is a good year because you are the upper-classmen, but academically it is the hardest. I have heard senior year is pretty chill. You are just graduating, I guess, and getting into college." 
"Sophmore year, we made a cult-like group in wrestling, essentially we would just occasionally walk by each other and say, "Obama," It was definitely a lot of fun."

Leave a Comment
About the Contributor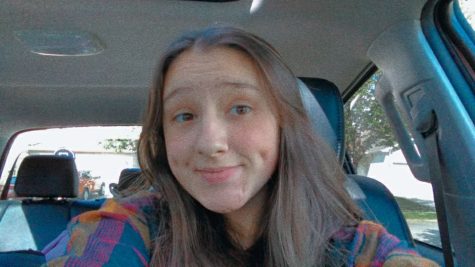 Florence Bruns, News Writer
5/4 people admit they are bad at fractions