What's Next: Wyatt Aramburu
"He's just Wyatt, you know," said Ty Davis. Davis is the best friend of senior Wyatt Aramburu. 
Many people see Aramburu in the halls and describe him as a positive influence. 
His light-hearted mood and chirpy personality make him a great person to be around at school.
As Aramburu reaches the end of his high school career, it is time for him to take his next step and figure out what he wants to do. 
"I don't have any real plans set in stone yet," Aramburu said. "I plan to just start working a bunch of mini-jobs and save up money so I can travel across the country. That is something I know I will be doing; traveling around the country or maybe even out of the country based on how the world is doing." 
While at Lakeland High School, Aramburu has been greatly appreciative of the teachers he has had during high school. 
Teachers like Rick Anderson, Michael Dunn, and Steve Seymour have made Aramburu's experience much better because the day goes by faster. 
Having teachers that create a comforting environment is very important for Aramburu because it makes school so much more enjoyable. 
Throughout high school, Aramburu has learned many skills to take with him to deal with adulthood. 
"People care about non-essentials when it does not matter," Aramburu said. "For example, people care about popularity, which does not matter at all. Once you are out of school, you are nothing, and none of that means anything." 
It is no easy task for anyone to undergo a major life change. Graduating high school and moving up in the chain can be something super freeing and exciting, but there can also be some nerves or stress. 
The number of responsibilities added onto someone's plate when they graduate high school is quite the obstacle. 
Aramburu has some uneasy feelings about moving on, but he is still excited for his next journey. 
"High school is a security blanket, and once you are out, you have all the time in the world to do anything you want," Aramburu said. "This is a good thing, but it can be bad if you let time get away from you and do not use it wisely. That can be scary." 
Aramburu is a commonly known face throughout the Lakeland halls, as he can be seen on Hello Hawks. His outgoing personality and long curly hair make him stand out to everyone.
"On a real note, Wyatt is seriously one of the sweetest, funniest people I have met in my life," Davis said. "I think he has always been super supportive of anything I have wanted to do. Wyatt is the GOAT." 
Leave a Comment
About the Contributor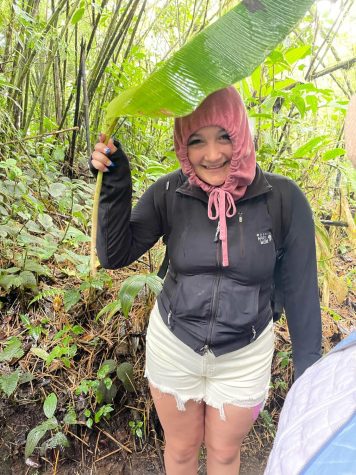 Samantha Fuller, News Editor
Goodest writer in the class...