Hawks Battle Against Vikings
The Lakeland Hawks varsity baseball(0-9) is still searching for its first win of the season after a doubleheader against the Coeur d'Alene Vikings(6-6). 
The first game went very poorly for Lakeland, resulting in a score of 11-0. Unfortunately, it was called in the bottom of the 5th inning due to the 10-run rule. Focus and plate discipline appeared to be off, and it seemed the Hawk's defense did not know what to do with the ball once they had it. 
"We were failing to hit the ball and walking a lot of batters," said junior Reilly Saxe when asked about the team's main problems.
Although the second game resulted in a loss of 12-3, the team played better overall.  
"We had one out in the bottom of the sixth inning, and as far as score, we were hanging with them. After that, we should have had easy outs, but we kept making mistakes," said catcher Jace Cooksey. 
Numerous players admit that they made too many mistakes in the last inning to compete with a skilled team such as the Vikings. 
From now on, the Hawks know that they need to keep putting in work so they can make a comeback for the remainder of the season. 
The Hawk's next games are scheduled against the Moscow Bears(2-9) at home this Thursday, Apr. 13. Since it is clear that Moscow is having trouble so far, Lakeland has high hopes heading into the end of the week. 
Various spring sports games have been postponed due to cancellations, leaving players to also hope the weather holds up.
Leave a Comment
About the Contributor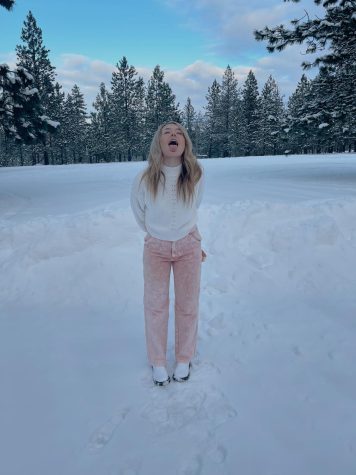 Rylee Dragon, Sports Editor
Sports editor, photographer