Locked In
When spring comes around, many at Lakeland High School see track season as the perfect opportunity to condition for another sport or simply be a part of a second sport. Along with this, track is full of athletes, and not everyone will take part in the sport after their high school years. 
LHS senior Terry Edwards is an athlete that does not see track as just another sport, as it is his main focus.
Edwards is recognized for being extremely talented in various running events and having an undeniable passion for what he does. 
"He definitely has way more of a passion for track than others. He puts work in outside of school and is always getting more reps in. You can really tell he is passionate when he talks to his dad," said Saputski, also mentioning how much he gets pushed when running by both Edwards and Thomas Calder. 
At the Sweeny invitational, the first of the season, Edwards and his teammates, Calder, Nick Nowell, and Saputski, broke the men's 4×100-meter relay record with a time of 43.41 seconds. 
"Our season is going really well. We are looking very strong. We are state contenders," said Edwards. 
Edwards runs the 4×100-meter relay, 4×200-meter relay, 400-meter, 200-meter and does long-jump, but he is open to taking part in even more events. 
"Put me in any event, and I will win," said Edwards confidently. 
This year he is unsure, but in the past years, Edwards has enjoyed running the 400-meter the most.
Although it may appear that way, winning does not just come naturally to Edwards. He admits that it takes a lot of outside work, time, and cardio. Despite this, when he is actively in a race, it is definitely more of a mental experience than physical. 
"If you are not ready for a race mentally, you will lose," 
Before a meet, Edwards takes time to sit on the bus and listen to music so he can focus. These moments of focus pay off for Edwards, and he is truly able to get in the zone before his events. 
Edwards is experiencing mixed emotions about this being his final season of track. He is emotional but prepared to start his post-graduation plan.  
Initially, he plans to go to Spokane Community College and complete General Studies. After, he wants to study Fire Science, hoping to be a Wildland/Forest Firefighter someday. Through all of this, Edwards will still run track, working his way toward a D1 school to compete at an even higher level. 
Edwards has already gone through the recruitment process, saying, "I am familiar with the SCC coaches, and I have been training with them."
Lakeland will be losing an important senior role on their team after the 2023 season, but Edwards is one of the few that will not be saying goodbye to his sport. 
Leave a Comment
About the Contributor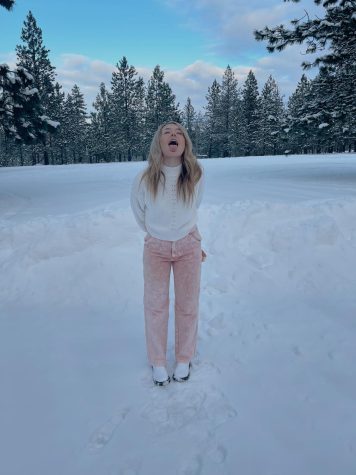 Rylee Dragon, Sports Editor
Sports editor, photographer