The Elephant Whisperers
If you take a look at the section of new releases on Netflix, you will surely notice an interesting title: "The Elephant Whisperers." It may sound controversial, but it's actually a magnificent documentary produced and directed by Kartiki Gonsalves that follows the singular story of a couple who dedicates their life to raising baby orphan elephants in their village located in the wildest and most beautiful nature of India. 
Due to the magic and respect with which it was created, this documentary has been awarded the
prize of Best Documentary Short Film on the night of the Oscars held on March 13.
The main characters of the documentary have characters that are either elephants or humans.
Bomman is an old but active man, the son of a long generation of guardians that look after the biggest Elephant camp in all of India called the Theppakadu Elephant Camp. His passion for his job and the love he feels for the animals permit him to still dedicate every day of his life to his dear elephants.
Bellie is his wife, his other half. She is the only woman in the village who is
allowed to deal with elephants, and her life before was very different, with a different role in society and a different husband. But then his husband got killed by a tiger in the forest and after a while, she met Bomman. When the park rangers brought a special little elephant into the camp, they saw how good she was at this job, and they let her be a guardian as well.
That special elephant was Raghu, undoubtedly the star of the documentary with his eccentric
personality. After an accident that happened to his mom, he became an orphan; the guardians tried to free him in the forest, but he could not live alone, and he always came back to Bomman and Bellie. Therefore, the two of them decided that the best thing to do was take care of him as his "new parents."
During the documentary, Bellie often compares Raghu to a baby human, and it can sound exaggerated, but looking at the little elephant's behavior is impressive with how many things elephants and children have in common: they both like to play, they both like acts of affection and love, and they also really enjoy spitting. It is not unusual that Raghu tries to run away when they call him, or instead of sitting next to Bellie, he decides to sit on her.
In India, a very popular belief is the reincarnation of souls. Episodes like this remember to Bellie a lot of her daughter, who has recently passed away. No matter what you may believe in, this documentary really captures the magic that it's impossible not to trust. 
Not many words are needed in this film, which primarily talks through great quality images that show the Indian environment's colors and the beauty of unspoiled nature that I forgot could exist when living in a world covered by roads and buildings.
This documentary really explores the bond that exists between people and nature. However, it's not an invitation to have contact with wild animals. Bomman and Bellie are in fact two experts in what they do, and they always remember to treat elephants with respect.
When the documentary is almost at the end, another baby elephant joins Bomman, Bellie, and Raghu, and I can really say that "The Elephant Whisperers" showed me the definitive definition of "family," a group of individuals united by love.
Leave a Comment
About the Contributor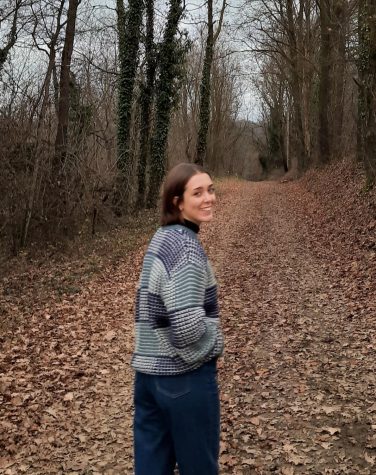 Sofia Meritano, General Assignment
Be brave enough to catch your star