Sprinting into Track Season
Although the weather is not signaling that it is time for Spring sports, the Lakeland track team says otherwise. 
Cold and snowy temperatures are not stopping the athletes from getting their work in, even if practices can only be completed indoors. 
"The meet might be kind of rough because we have not been able to run too much distance outside due to the snow," said Thomas Calder. 
Not a whole lot was done due to the big amount of people and the low amount of space, so it was not as productive as usual. 
Various track athletes participate in other sports before the Spring. To show, sophomore Landree Simon plays volleyball, and basketball, closing the year with track.   
"Track is a lot more running and it is way harder on you mentally. It's completely different since it is more of an individual sport," said Simon.
Weston Saputski, Thomas Calder, and Terry Edwards are all part of the boy's 4×1 relay, which is thought to be one of the strongest parts of the team. 
"Our boy's relay is looking pretty fast," said Edwards. 
The track team has only been given the opportunity to run outside a few times since practices began on Feb. 24. 
"I am doing the 800 meter and high jump on Friday, but we have not been able to practice the high jump, so, hopefully, everything goes as planned. As a team, I expect us to place second or third," said Simon. 
Some very driven athletes are already looking forward to the State competition that will take place at the beginning of May in Boise, ID. Others are excited to spend time with friends and compete at the same time.  
"We might break the 4×1 record," said Saputski, who says he is looking forward to that the most this season. 
Last year, the boys were close to breaking the 4×1 relay record, and the girls were very strong. That being said, Lakeland also lost some strong boy jumpers that were a part of the 2022 class. 
The Hawks will compete in the Sweeney Invitational this Friday in Lewiston, ID. 19 teams are participating in this first meet of the season, beginning at 11 am. 
Many track athletes are seeing Friday as nothing more than a warm-up meet, feeling they are ready. 
Leave a Comment
About the Contributor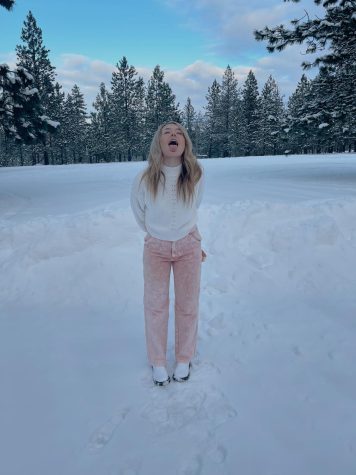 Rylee Dragon, Sports Editor
Sports editor, photographer