Under the Wing
Imagine just getting into high school, trying to figure everything out, and then next thing performing in front of the entire student body on the highest level of a sport.
Some athletes crack under this pressure. They need more time to be ready for the competitiveness of the varsity level. 
However, some young athletes strive under this pressure and make the best of the situation.
Most people might not realize is how much an older athlete can have on younger teammates who are new to varsity. 
Most upperclassmen like to give the younger players grief and tease them. This does not make them feel any better about their situation. 
Oftentimes there is one or maybe even a few upperclassmen that take the young players under their wing and make them feel at home. Often, these athletes have also been in the same situation. 
Carter Vanek is a football player with exceptional size and ability for his age, and he was bumped up to varsity early on in his freshman year. 
Vanek says he was scared at first, and didn't know what to expect at the varsity level. But it did not take long for Vanek to find his place with the help of offensive lineman Taylor Winkelkotter.
"I was very nervous getting pulled up as a freshman; I didn't know what to expect. Taylor treated me like one of his own. He didn't make me feel different for being a freshman, but he made me feel like a friend instead," Vanek added.
Now, Carter Vanek is the Hawk's best lineman and a leader on the team.
Thomas Calder is a well-known name in the halls of Lakeland High School. Calder has been a standout athlete since he entered the school as a freshman.
Just like Vanek, Calder did not know what to expect. With the help of some upperclassmen, he found his role within the team and has yet back since. Calder shared that Ammon Munyer and Alden Waddington took him in.
"It was a little nerve-racking, Ammon was going to play college football, and I wanted to get there, so he motivated me to push myself to accomplish my goals. It helped take some of the pressure off. They both helped me prepare to compete against good athletes at the higher level," said Calder. 
Payton Sterling has been a varsity athlete since her freshman year. Her story is a little different. She says she was never really nervous to play varsity. However, she still felt that some upperclassmen made a positive impact on her. 
"I had played for a long time, but I had to compete for a spot and prove myself. Harley See mentored me in a different way. We were always competing, and she made me a better athlete," said Sterling. 
Sophomore forward Katie Cameron is going into her third year as a varsity soccer player at Lakeland. As a freshman, Katie had difficulty fitting in and making friends on the team. This is until Senior Alyson Clanin took Katie under her wing. She would run drills with Katie, and this boosted her confidence significantly. Cameron added that without Alyson she wouldn't be the player she is today.
At the end of the day, all of these athletes have gone through the emotions and hardships of playing at the highest level. Upperclassmen can guide younger athletes to be great. 
Taylor Winkelkotter described that everyone had been there. And the upperclassmen often feel the same way; they just don't show it as much. 
"I basically shaped Carter into who he is," Winkelkotter said. "I feel like Carter and I are the same person in every way. Whenever Carter started complaining, I'd tell him to shut up and toughen up even though I was right there complaining with him." 

Leave a Comment
About the Contributor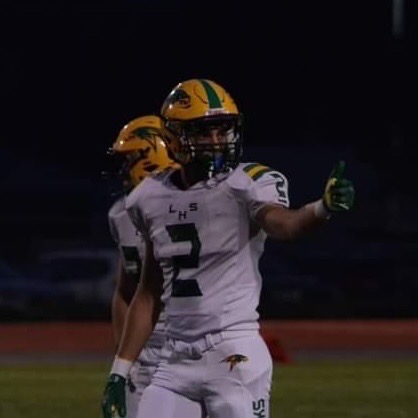 Ezra Benson, Sports Writer
Varsity Football and Track player. I like to ride dirt bikes, hunt, and fish.