Hawks Back Sandpoint into Elimination Game
The Lakeland varsity boy's basketball(5-16) team defeated the Sandpoint Bulldogs(8-13) in the first game of the best-of-three series. 
Feb. 22's district game ended with a clutch two-point win for the Lakeland Hawks on the road at Les Rogers Court. 
"We had a lot of turnovers, and they shot very well, but we still came up with the win. That kind of proves that if we limit the turnovers and play better as a whole, we should win by even more," said Scotty Hocking. 
Hocking scored 19 points, followed by Kenton Ferguson and Nick Nowell who both dropped 15.  
The Hawks are set to play the Bulldogs once again to hopefully advance to the state tournament. 
No player other than Hocking has made the trip down to state before, so there are many nerves surrounding the upcoming matchups. 
A Lakeland win will punch the Hawk's ticket down South, but if they are unable to come up with a win, there will be one final game. The potential third game would be held at Sandpoint on Saturday to decide whose season goes on.
The boys are confident in their abilities and there will be no game three needed. 
"We are the better team so if we play how we should we can come up with the win," said Hocking.  
Another win against the Bulldogs felt even better following the huge victory the Hawks earned against them earlier this season. That win came from the intense Battle for the Paddle spirit game when Lakeland won 70-62. 
All games at state will be highly competitive and prove to be a challenge for the Hawks. 
"It is going to be hard for the first game, but it is double elimination. If we are unable to pull off the initial win at least we will have another chance," said Aiden Rothrock.  
Lakeland hosts Sandpoint this Friday at 6 pm at Hawk Court. 
Leave a Comment
About the Contributor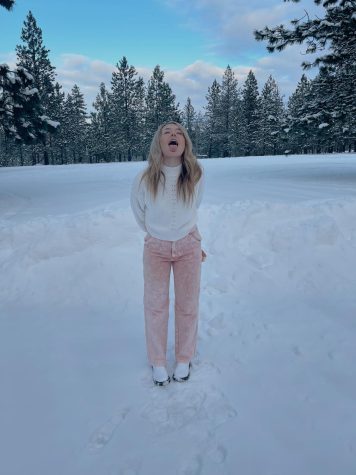 Rylee Dragon, Sports Editor
Sports editor, photographer