Halfway Through
The concept of time is a mystery. Sometimes it is quick. Other times, it is slow, and its perception is different in every moment for every person. The other exchange students at Lakeland High School and I agree: the last five months went by too fast.
And now, we look at each other, finding that we are halfway through our experience here in the United States.
About a year ago, destiny, God, or whatever you believe in, decided where we would spend our exchange year here in Idaho in the United States. 
We were all extremely happy and excited; the only problem was that none of us had any idea of what Idaho was. 
I immediately started researching Idaho and making it a top priority. 
Potatoes, big trucks, Trump fans. I knew everything about it and spent my entire summer dreaming about those things, but the reality was surprisingly different. Different, sometimes in a good way and other times in a bad way.
Alice Drucbert, from France, was expecting "The High School Musical" at LHS; therefore, you can only imagine the shock on the first days of school when she didn't see anyone dancing and singing on top of the tables of the commons.
Besides the initial confusion, Drucbert is now doing great. It took a long time for each exchange student to adapt and get involved in this environment, but everything started working eventually.
The first months were unique for each of us, but we all struggled with common issues. For example, the homesickness of our families and friends, while at the same time, we had to adjust to the routine of a new family.
The language was also a big challenge.
 "When I started hanging out with my host sister and her friends, I remember I didn't understand any of their words. I used to stay silent, but I had so many things I wanted to say. I just didn't know how," Francesca Ragazzo, from Italy, said.
Sometimes it was rough trying to get involved when the other people looked at us like we simply do not understand. 
Not having the words to explain yourself can often be mistaken for stupidity. So, every one of us five had to find other ways to show people our true personalities.
In my experience, one way to escape this problem was by writing here in the school newspaper. On the Hawkeye, in fact, I had the time and tools to say my opinion and show what was in my mind to the people who surrounded me.
Difficulties are undeniable, but we were always fortunate to have the help of so many teachers, and other students who eventually became friends and host family members.
Now that we're at this point in our exchange programs, we can affirm that we've learned so many things that led us to grow.
Isabell Sandberg, from Sweden, has learned not to be picky with things because sometimes your first impressions can be dictated only by prejudice.
In addition, as an exchange student, you are far from the support of home, so you have to learn soon how to make your own decisions and to enjoy the time by yourself.
Bjork Kristiansen has learned how to be more open, try new things, and "take it as it comes."
In Denmark, she was very organized. She used to know exactly the plan for each day of her life, while here she's trying to enjoy every single experience she has the opportunity to live. 
"I take it more…what's it called?… Chill!" Kristiansen said, smiling.
Ragazzo said that she was timid back in her home country. She has always had her group of friends, which was an integral part of her comfort zone.
 However, when she arrived here, she realized she had to talk to the others first and put apart insecurities if she wanted to bond with new people. 
We were all intimidated by these Americans and their culture in our first weeks here. They seemed nice, but what if we do not share the same values? What if we have the opposite kind of humor? What if they have other habits?
Well, we found our answers by stepping outside of that well-known comfort zone.
Drucbert has met a new way of approaching people. American friendliness was, in fact, a value she denied, having grown up in French culture that tends to see mistrust in strangers or the unknown.
When Sandberg walks on the sidewalk, she has to remember that she can smile at passers-by and say hello. She does not have to worry about invading someone's personal space as she used to do in Sweden.
I wonder if, after all the things we have learned here, our families and friends in our countries of origin will recognize us when we will get back home in a few months.
My mom will surely be surprised when I will be able to make my food or don't need to consult with third parties anymore before making a decision. 
This is part of the process of growing up, and I am sure she will be proud of how these personal changes rather than sad about how much I have changed.  
Therefore, now that we are halfway through the school year, we just want to have fun, enjoy what we have struggled so much to build in the past few months here, and try not to think that one day everything we have lived will just be some memorable and beautiful memories.
Leave a Comment
About the Contributor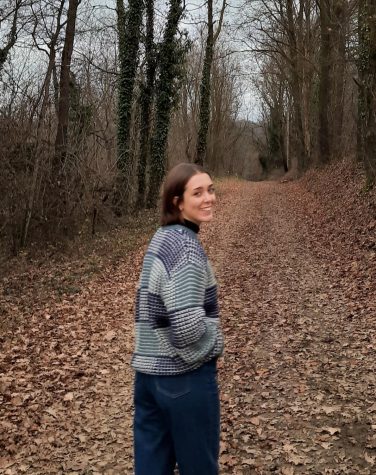 Sofia Meritano, General Assignment
Be brave enough to catch your star