Beyond the Paddle
The history of Lakeland's rivalry games
Lakeland High School (LHS) and Sandpoint High School (SHS) have had a rivalry going on for quite some time.
Some of the LHS staff have graduated from LHS, and the rivalry is something new for them. 
Before LHS participated in Battle for the Paddle, the school was a part of a yearly competition with Post Falls High School called Prairie Pig. 
LHS's rivalry was stronger with Post Falls High School. However, this has now changed due to the Battle for the Paddle. SHS and LHS have taken this friendly competition and have created a strong rivalry between the two schools. 
SHS used to be a significantly larger school than LHS population-wise, so LHS did not usually play SHS in sports. 
Dustin Frank, principal assistant, graduated from LHS in 2002. 
Although there was no rivalry in the past, Frank has grown a competitive edge against SHS. 
Frank feels like there is such a rivalry between the schools because Sandpoint is able to challenge LHS teams to try their hardest to win. 
"I love competing against Sandpoint," Frank said. "I do respect them, and a lot of times they are talented, and I like playing against teams that give us a challenge."
That urge to win shows in both the staff and the students. 
Playing against SHS teams often includes loads of smack talk between the two schools. There have been social medias made by both schools, like TikTok and Instagram accounts, created solely for the school's trash-talking.
Students at LHS were going into Battle for the Paddle with the mindset that they must beat Sandpoint High School. 
"Sandpoint has never respected us, so I'd like to go to Sandpoint and put the respect to our name," Ella Terzulli said.
LHS went to Sandpoint and proved their standards on Jan. 20, winning the paddle for the fourth time in a row. 
When arriving at Sandpoint, the tension was thick between the two schools. 
Everyone was dressed up to the max, the gym filled with spirit, hope and sweat. 
Throughout the whole event, the rivalry was shown by both schools making extreme efforts to win the paddle. 
LHS students gave it everything they had in order to make sure they kept the paddle. 
"I felt like a dawg. We destroyed them. It was definitely palpable, and you could tell they wanted to win so badly," Oliver Everett said. "It just sucks for them because it can be very embarrassing for Sandpoint when we just keep beating them over and over." 
The different events were also very competitive because both sides wanted to improve. 
The urge to win caused many people to perform like never before. 
Scotty Hocking, a senior at LHS, broke a school record by scoring a total of 34 points in the boy's varsity basketball game. 
Hocking was motivated to do the best he ever has, and pushed himself to play exceptionally during the battle. 
The bands were also no exception to this rivalry. Throughout the event, both bands played well-known songs the entire gym would sing along in unison. 
Songs like Sweet Caroline and Great Balls of Fire were performed for the first time by the LHS band. 
LHS band members knew they had to add new songs in order to keep up with Sandpoint at Battle for the Paddle. 
Students at LHS take performing against SHS very seriously, and it becomes personal due to the rivalry. 
"I feel bad because we are so much better in every way, shape or form. We have been beating them for so many years that it would honestly just be embarrassing at this point," Payton Miller said, a junior trumpet player at LHS. 
The atmosphere in the gym was different than any battle before. The seniors of LHS have now won the paddle for all years of their high school career, making their competitive edge even stronger. 
It was very vital for the senior class to make sure they kept the paddle for their final year as hawks. 
"It was crazy, hype and filled with energy," Natalie Richardson said, a senior at LHS. 
The energy from both schools showed their dedication to beating each other. 
Although Sandpoint won some competitions during Battle for the Paddle, LHS students showed how much they truly care about, their school and how much they wanted the win. 
There is a need to win when LHS plays SHS, and this Battle for the Paddle was no different. 
Between staff, coaches and students, there was no way LHS was letting SHS take the paddle from them. 
"My blood boils a little bit when I know we are playing against Sandpoint. Coaching against Sandpoint and playing against them brings a different mindset," Frank said. 
LHS worked extremely hard, and the rivalry between the schools just grows stronger. 
Each year, both schools play each other in hopes of being the ones to win and come out on top with the victory. 
"We came, we saw, we destroyed," Terzulli said.
Leave a Comment
About the Contributor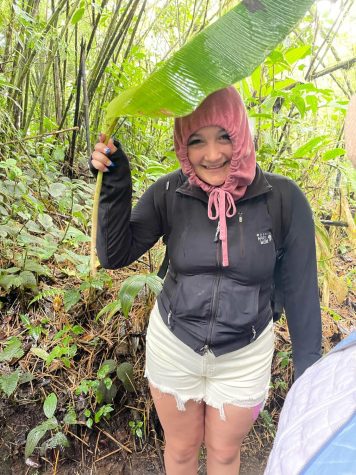 Samantha Fuller, News Editor
Goodest writer in the class...