Hawks fall hard in Kellogg
Lakeland lost to Kellogg last night for the second time this season. 
The fourth quarter closed with a score of 72-62, leaving the Hawks with a current record of 2-10. 
Lakeland had a lead on Kellogg at the end of the first quarter due to a buzzer-beater, putting them up by two points. The second and third quarters weren't as promising, as the wildcats outscored the hawks 25-14 and 16-15. 
The defense was a main struggle for the Hawks, as they struggled to contain Kellogg's Ripley Luna, who scored 41 points. 
"We came out strong and played our game at first, but in the end, we just had no answer for then," said sophomore Gabe Harris.  
Kenton Ferguson led Lakeland with 21 points, followed by Scotty Hocking with 11 and Nick Nowell with 10. 
January 20th marks the long-awaited Battle for the Paddle game between Lakeland and Sandpoint, a league rival. The Bulldogs are heading into Friday with a record of 7-7. 
This week, many players are reflecting on the first game against Sandpoint that resulted in a loss. 
"We only lost to them by six last time, so we can go into it with confidence, knowing they're beatable. We need to win by six this time around," said Harris. 
The huge matchup is expected to bring up nerves from most of the team, as there are expected to be large amounts of home and away spectators.
"This will be the most fans I've ever played in front of, so I'm super nervous. I didn't even live here last year, so I have no idea what to expect," said Harris. 
A win would mark the fourth consecutive year that the Hawks defeat the Bulldogs in the battle. 
"I really think it could go either way, and the fans are going to be crazy," said Hocking, who has previously played in the annual game. 
A ticket is needed to enter the game, which will be held in Sandpoint, ID, at Les Rogers Court. 

Leave a Comment
About the Writer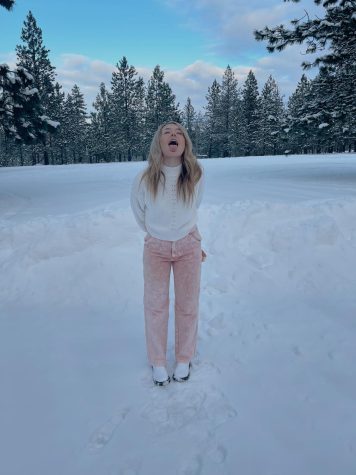 Rylee Dragon, Sports Editor
Sports editor, photographer