Hawks fall to Tigers on Senior Night
The Hawks boy's basketball senior night went differently than planned. 
Lakeland faced Timberlake high school for the second time this season and fell 67-61. 
Junior Ben Ryan scored a season-high 18 points, followed by Scotty Hocking with 15. 
"They came out hot and weren't missing threes at all. When we left for halftime, we were down, but we came back knowing we've been down before, so we shouldn't worry," said Hocking. 
The Hawks struggled mostly in the first and third quarters, not being able to score more than single digits. However, in the second and fourth quarters, they outscored the Tigers 23-18 and 20-14. Lakeland succeeded in attacking offensive boards and moving the ball around.
Accepting the loss was more difficult since the first matchup resulted in Lakeland beating the Tigers 74-72. Scotty Hocking sealed the previous win due to a buzzer-beater. 
Despite not coming up with a win, the special night provided an opportunity for the 2023 seniors to be recognized. Posters, photographs, and balloons lined the bleachers inside the Hawk's gym in admiration of the seven seniors. 
Those on the team who will graduate this spring include Scotty Hocking, Michael Locke, Aiden Rothrock, Caysen Loutzenhiser, Nick Nowell, Collin Cameron, and Jack Boettcher. 
Many players found walking onto the court with their families prior to playing bittersweet. Some thought it seemed like a regular Tuesday night game, even though there was a much bigger crowd. 
"I already know I'm going to play basketball next year, so it wasn't hard for me," said Hocking. For others, basketball is not a part of their future, making the night more difficult.  
There are many more games for the Hawks to look forward to before the season comes to a close. Including this is the Battle for the Paddle against Sandpoint. Lakeland has defeated Sandpoint in Battle for the Paddle three straight times. 
Lakeland's next game is set to be in Kellogg against the Wildcats on Tuesday, the 17th. Kellogg currently has a record of 5-3, with one of those wins being against the Hawks. 
Leave a Comment
About the Contributor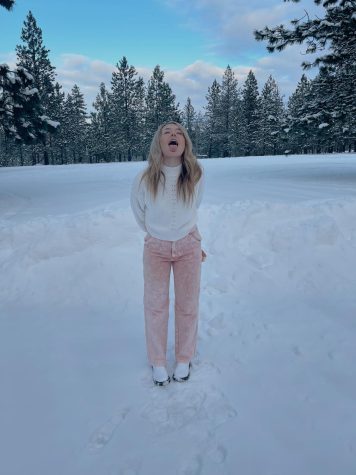 Rylee Dragon, Sports Editor
Sports editor, photographer