Locke and Load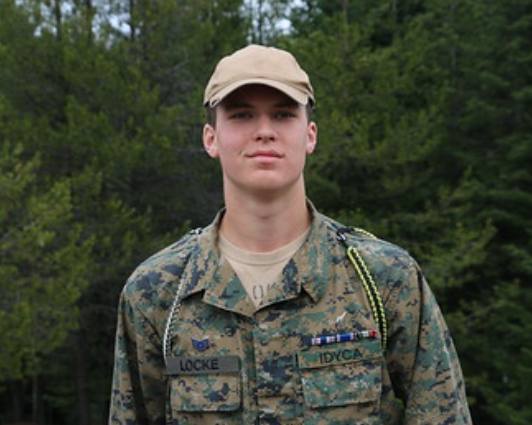 Military Mike, Big Mike, or just Michael, he goes by many names and many motives. Michael Locke is the man who suddenly turned his life around with one decision he and his family made. 
Locke has spent most of his high school years trying to play basketball; getting cut from the freshman team was a dark turn for a young 5 foot 6 boy. This only fueled his drive to improve and be the best he could be.
Come sophomore year, Locke shot up to 6'3 and gained nearly 100 pounds.
"Quarantine was rough for me and a few others," said Locke. 
Playing C-team his sophomore year improved his confidence, but he felt the need to get better.
Standing at around 6 feet, 4 inches to begin his junior year, weighing on the heavier side of 225, Locke had the intention to play basketball.
Locke made junior varsity, but sadly, his junior year was cut short when it was decided for him to go off to military school in early January 2022. Locke returned home on May 27 of that year. 
Locke attended Idaho Youth Challenge Academy, a seasonal military camp where education and living are provided to high schoolers who need to mature. 
"Because I thought it was time for a change, and I wanted to do something positive with my life and do something I can be proud of for once," said Locke.
His daily routine at camp was to wake up at 5 a.m., take an occasional morning run, shower, get dressed, and head to the chow hall for breakfast. Locke's days consisted of school and some more running, push-ups, and sit-ups. They would end each day with dinner and homework before doing it all again the next day. 
Locke mentioned that this was a weekly routine, yet the weekends consisted of fun things such as hikes.
Locke says his favorite part was graduation and the chance to see his parents and the changes he made within himself. 
Locke says the benefits include shedding 50 pounds, getting his life on track, and learning the importance of school. After a successful semester, Locke now has the privilege of two free periods for his senior year. 
Locke's close friend Makayla Schranck who has known him since elementary school, says that they only really became close in the last year or so.
"He's always had respect for people, but I think it's gone up. He just seems better off for his future," said Schranck. 
She says his transformation was inspirational, although she wouldn't be willing to attend military school.

"I think I took a big step in mentally maturing. The best part about leaving is the opportunity to compare military school to the real world," said Locke. 
He feels he's become more laid back. 
"I'm still the fun, exciting guy I like to be, but I definitely know how to control it."
He worked on his dribbling and his post moves when he got back, and he wishes to play basketball at the college level if he can, After high school, of course.
Now, as a senior, he plays on varsity and has started half of the games this season as a 6'5" Center.
Locke wished to let everyone know, "anything is possible if you put your mind to it."
Leave a Comment