Hawks Victorious at Home
The Lakeland Hawks boy's basketball team defeated the Priest River Spartans on Tuesday, Dec. 13, 69-59. This marked the first win of the season for the varsity team, who now sits at a record of 1-4. 
Senior Scotty Hocking scored 26 points, including 14 in the fourth quarter. 
"Our confidence was high leading up to the game, but our confidence deteriorated when we realized they were sticking with us. Despite this, Nick played great," said sophomore Gabe Harris.
"It was his best game of the season. He was the best player on the court yesterday. We're used to how Scotty played; he always helps us out on both defense and offense."
"We expected to play better than we did, and when we did not do that, it threw us off," said Hocking.
At halftime, the Hawks were trailing 39-31 and knew they needed to change certain things in the following quarters.  They succeeded in picking up their energy, scoring 25 points in the third. 
"Coach yelled at us, and we came back fired up. Halftime always brings us together. We all started playing better, and our game just came together," said Harris.
"We played more freely after halftime and didn't care as much. We flew around everywhere on defense," said Hocking.
Nick Nowell scored 18 points, accompanied by 11 rebounds. 
Lakeland will travel to face the Moscow Bears on Friday, Dec. 16, in their first league matchup of the season. 
Moscow is off to a good season thus far, with a record of 3-1. They are expected to be a tough opponent for the Hawks. 
"I'm excited about the Moscow game. It could go either way," Hocking said. 
"They have a rough student section, and when we played Lewiston, they got in many of our players' heads, especially the younger players. We need to continue to play like last night."
Lakeland is preparing to head into Friday focused and aware of its job. 
Leave a Comment
About the Contributor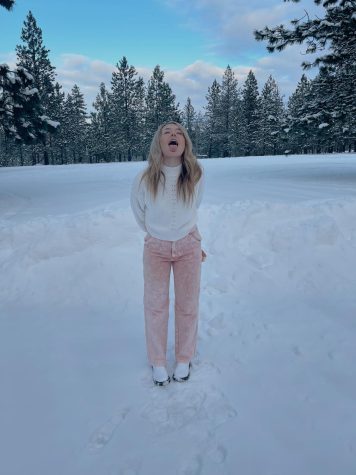 Rylee Dragon, Sports Editor
Sports editor, photographer