An Alumni Game to Remember
The 2022-20223 Lakeland Alumni basketball game took place on Dec. 6.  
A number of Hawk alumni were involved in the game: Tim Kiefer, Jeremiah Stockton, Eric Cooper, Matthew Horne, Hayden Nosworthy, Tyrel Derrick, Preston Roth, Kyle Deeter, Holden Ray, Jalen Skalskiy, Carson Seay, Ryder Nelson, Alden Waddington, Jordan Hodgkins, Bryce Henry, Randy McCabe, Kenny, Cooper, Jay Plunkett, and Caleb Jacobsen. 
These LHS alumni were split into two teams, green and gold. 
The game was split into two 20-minute halves filled with exciting plays from both sides. The players were eager to get back on the court, but they found they were not quite as athletic as they may have been in their high school games. 
"For a bunch of old guys that get tired running up and down the court, it was pretty amazing," Derrick said. 
The green team won 97-90 in the end. However, the gold team was given extra points in the hope of ending the game with a close score. 
Although the green team defeated the gold team, the players on the gold team were still excited to be there and still be a part of LHS' community. 
"It was a lot of fun. We obviously did not do as well as we hoped for, but it still was such a fun opportunity," Waddington said. 
All of these players were thrilled to get the chance to come back and play at Lakeland once again. 
For some players, it has not been very long since they have walked the halls of LHS, while others graduated several years ago. 
Players like Waddington and Hodgkins just recently graduated as part of the 2022 class. 
Despite Waddington having recently graduated, it was obvious this was a game he wanted to be a part of. 
"This is the start of a new yearly tradition for me. It was very nostalgic, coming back and sitting in the locker room. A lot of memories came to mind," Waddington said. 
Waddington enjoyed his years attending LHS. 
There were many memories that sparked his mind, especially memories with teammates. 
Waddington believes that he should show how grateful he is for all the great memories he made at LHS. 
"It shows that we care and want to give back to the place where we went to school," Waddington said. 
Another student who recently graduated is Skalskiy. Skalskiy graduated in 2021. He played varsity his sophomore through senior year. 
"It was fun to see everyone back after we graduated. It was nice to see people I haven't seen in a while," Skalsky said. 
Skalskiy has a passion for the sport, so he felt like this would be the perfect opportunity for him. 
Skalskiy said he had some issues with the school in the past, but in the end, he was glad to be able to come back to his old school and play the sport he loves. 
"I just love the game; it's my thing. Since I came out of the womb, I had a ball in my hand," Skalskiy said. 
His favorite memories are mostly all of his time playing basketball, especially going to state. 
Some of the players in the game are active members of the LHS community, like Derrick.
Derrick is the girls' varsity basketball coach, and Kiefer is a weights teacher at LHS. 
Despite Derrick already contributing to the LHS community, he jumped at the opportunity to be in the alumni game. 
Derrick was very appreciative that all these alumni were able to make it out and play one game of basketball just for fun. 
"It's just such a fun thing to come hang out with old buddies and players that I watched play when I was in high school," Derrick said. 
Although Derrick found the game to be entertaining, it had much more meaning for him. 
This gave Derrick the opportunity to give back to the community that he grew up in and was a part of. 
Derrick has many memories from LHS that he will forever remember, and he wants to be able to give present LHS students this opportunity as well. 
"It's the community feel. So many people invested in us when I was growing up, so to be able to come back and give to the students now is such a joyful feeling," Derrick said. 
Derrick plans to return in future years to be a part of the Lakeland Alumni Basketball Game and make even more memories at LHS. 
The game was exciting to see all the past hawks come back and play on the court once again. 
Leave a Comment
About the Contributor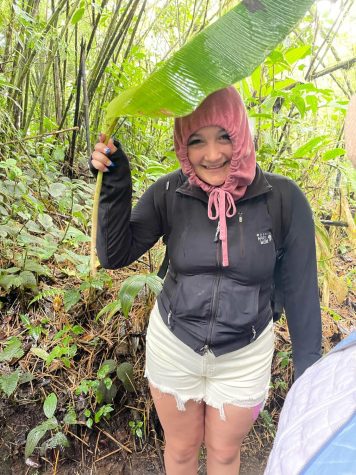 Samantha Fuller, News Editor
Goodest writer in the class...