Girls Dominate; Boys Fall in Border Clash
Lakeland High School boys' and girls' varsity basketball played on Friday, December 2, and Saturday, December 3. 
Both teams played at East Valley in Spokane, Washington, on Friday. The boys fell to the Knights 81-76, whereas the girls' team defeated them 58-9. 
"I think that our offense was really good, and we scored a lot of points, but our defense was slacking. So as we get better, our season should too. Scotty Hocking helped us throughout the game along with Ben Ryan and Colin Cameron," senior Aiden Rothrock said. 
The boys now know what to focus on for their future games in the season.
"We made a lot of shots and did well rebounding. During the rest of the season, we need to talk more as a team, especially on defense," point guard, Scotty Hocking said. 
The Hawks struggled the following day as West Valley beat the boy's team 67-53. 
"The East Valley game went ok. We played better than the first game, and they were able to keep getting to the basket. With West Valley, we were close to them in the starting three quarters, then they got away from us," sophomore, Gabe Harris said. 
There was a controversial point against the Eagles in the fourth quarter where a referee ran into Nick Nowell, which affected Lakeland's momentum. 
"Moving forward, I'm looking forward to Battle for the Paddle and senior night against Priest River this season," Rothrock said. 
…………
The varsity girls beat the Eagles 79-44 on the 3rd. Sophomore Ziya Munyer stood apart, as she had 20 points and ten rebounds. 
"We worked well in transition. We were just having fun. Before our Wednesday game against Shadle Park, we need to work on our halfcourt offense and move the ball even better," Ziya Munyer said. 
"I think the East Valley game went well, we started off strong, and our defense was successful. Against West Valley, Munyer and Kenna Simon played well, and we pushed the ball. We shut down number one after halftime, which helped us. I expect us to beat Shadle as long as we keep playing just as we have been," Landree Simon said.
After these games, the boy's team sits with a record of 0-3, whereas the girls clutch onto an almost perfect 3-1.
On December 7, the girl's team will take on the Shadle Park Highlanders in Rathdrum, Idaho. 
The boys will take on Lewiston in Lewiston, Idaho, on Friday, December 9.
Leave a Comment
About the Contributor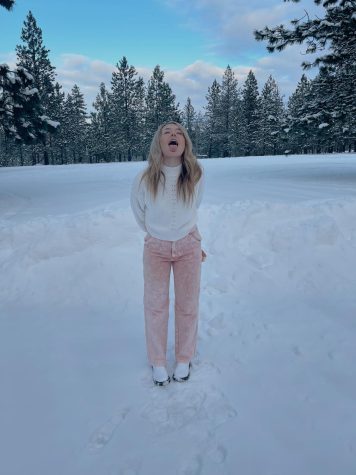 Rylee Dragon, Sports Editor
Sports editor, photographer