Thrifting
The term "thrifting" refers to a person who enjoys visiting thrift stores, second-hand stores, or vintage shops to buy items for a cheap price. 
There are a few different ways one may choose to thrift. Some choose to participate in it because of unique finds or to enhance their style. These specific finds include vintage and oversized tops, worn pants, and the occasional expensive name-brand item.  
"I started thrifting when I began skating. It is much easier for me to find more skate-style, baggy clothes. It's less expensive and has a good vibe when you're with friends," said sophomore Joey Wright. 
For others, it's simply seen as a more affordable way to get clothes when they don't have as much money to spend. Thrifting is a hobby for many young people and students at Lakeland High School. 
Sophomore Evan Hensyel said, "I thrift because it's cheaper, so I don't have to spend as much money. The clothes are also worn, which makes them look cooler to me. I usually go to City Thrift, Goodwill, and Gas and Grain in Coeur d'Alene." 
Close to Lakeland, there is the Rathdrum Thrift Store. Other common stops include Goodwill, Idaho Youth Ranch, and others. 
"To me, thrifting is an opportunity to be creative and be yourself through your clothes," said Ruby McIntosh.
Wright said, "Vintage Harley Davidson is definitely the best I tend to find." 
"My best finds were black double-knee Carhartt pants, a Carhartt vest, and a blue Nike zip-up," said Hensyel. 
Thrifting is a great way to support organizations that raise money for specific issues. Some of these organizations put their money toward addiction rehabilitation, hospice groups, or serving the homeless. 
The perception of buying used clothes has changed drastically as it's become more common. There's no longer such a large stereotype to go along with shopping for cheap, second-hand clothing. The buying of used clothes reduces the waste of energy and the resources required to make new items. 
"Everyone should go thrifting at least once in their life," said McIntosh. 
Leave a Comment
About the Contributor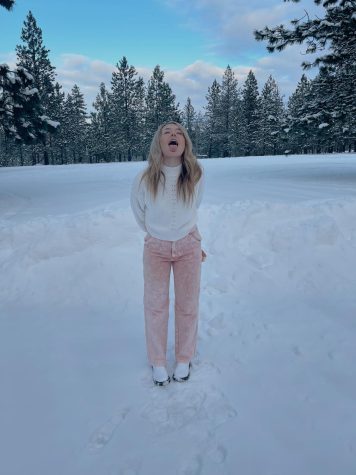 Rylee Dragon, Sports Editor
Sports editor, photographer