The Ups and Downs of Higher Pay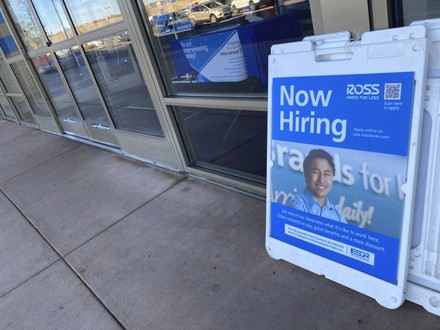 Jobs all around the inland North West are hiring, for 15-16 dollars an hour starting, which is making teenagers all around the area broaden their interests and their want to work.
Ross is hiring for 12.50 which is one of the lower-paying businesses and they don't get very many hires for that reason. Even though it can be a fun place to work, money is more important in most people's eyes.
A lot of older teens are finding jobs in Washington because they pay more due to the price of living. A few handfuls of companies even hire at 17-18 dollars an hour.
People who live out in Washington look at $17-$18 as an average pay unlike people in Northern Idaho.
After the pandemic, most families were relying on the government money they received and they stopped working.
Taylor, who is 22 and currently working at Ross, has to find a better paying job because of the price of gas increasing and the other job opportunities that will help her earn more so she can continue to pay her bills.
"It's not that I don't like working here, don't get me wrong I love the people I work with but I can't afford to drive here from where I live everyday. Not to mention I drive my little brother to where he needs to go and that's a lot just going to gas."
A majority of teenagers are working at Silverwood because of the people, the pay, and the benefits they get from working there. They start at $16hr as of 2022 which has teenagers across many high schools rushing to their gates.
What could happen if businesses that pay less than $15 an hour don't have enough new hires and how could that affect the community? It can affect the community because if there aren't enough people working the lines or the wait to get out of the store with the items they want to buy could take longer.
That can result in businesses losing people due to inconvenience. At Ross, employees are required to perform every transaction at a certain pace to get people through the line without any problems.
Walmart in Hayden has more self-checkouts for people who aren't in the mood for waiting and even some of the self-checkouts have belts for families with a lot of items.
In this day, convenience is more of a priority than a decent conversation with a worker. Heck factories are making robots so they have fewer people to pay and the ones who do work there to run the machines make what would feel like a fortune.
Baristas are a part of the few people working more than one job due to their small pay which could range anywhere from 7-8 dollars an hour. 
Though if you raise the price of an employee's pay you also have to raise the cost of your products in order to pay them. The higher the cost of a product the less likely it is to be bought by someone when they can most likely go somewhere else and pay less for the same thing.