Burning Up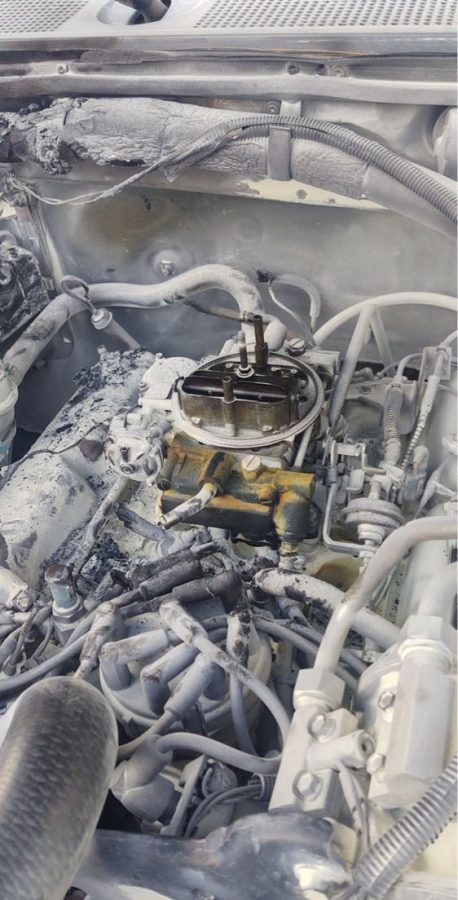 Nobody ever expects their vehicle to catch on fire, but it happened at Lakeland High School without warning. 
On Feb. 7, a truck caught on fire in the school parking lot before school. The truck belongs to Terrance Edwards, a junior at Lakeland High School. 
The butterfly on the carburetor was left open, so gas leaked into the carburetor, which ignited the fire.
No one, especially Edwards, expected this accident to happen. 
"I got to school, parked my car, but then, I was starting to get cold. I turned the ignition over, and the truck started to have a really low idle. It started making a puttering noise, so I turned it off."
Turning off the car did not seem to stop any of the problems with the truck; it only got worse. 
"As soon as I turned it off, the truck started smoking. I sat there and said, oh, it's just a little bit of smoke; it will stop smoking. It didn't stop smoking, though, so I got out of the truck and popped the hood. All the oxygen got in the hood, and the carburetor caught on fire." 
Edwards was very nervous and did not know what he could do. He never expected something like this to happen to him. 
Luckily, Edwards thought quick enough to get Mr. Hatcher, the armed guard, for help. 
"I went and got Hatcher, and the fire extinguisher and put the fire out. Then the fire truck and ambulance showed up. I was not hurt at all, I was just shocked that it happened."
The truck has a lot of sentimental value to Edwards, so luckily, it was not totaled, and he will be able to get it fixed. 
"It was super sad, it was my grandma's truck, so we're going to get it fixed just for her. She passed away, so I am glad it isn't totaled and can get fixed." 
Edward's truck will be up and running again, and he will be able to keep this memory of his grandma. 
"I'm going to get a new four-barrel carburetor for the truck, and it should be back to up and running." 
Even through all of the stress of worry of having his grandma's truck anymore, Edwards is doing good and excited to have his grandmother's truck back to normal so he can continue to drive it.
"It will be back and running again," he said