Student Council Fundraising Like Never Before
Lakeland student council has been working extremely hard this year to arrange fundraisers in order to raise money for the school and organizations in the area. 
According to Jenna Kalbaugh, "the money raised goes the Lions Club Backpack Program that helps kids in our community go home on Friday with a backpack of food to help them get through all weekends and breaks."
Student council also used the money for another cause. 
"We also split the money with the Lakeland Strong Account which is put aside for members of your community when they are in times of need. It is most important to Stuco to fundraise locally because it directly helps out people in our community." 
Lakeland student council has raised a substantially higher amount of money compared to previous years. 
Maddie Wiedenhoff, the chair of the fundraising committee has been in the student council since her freshman year and has watched the progress that has been made over her four years at Lakeland.
"Up until this year, we would raise probably an average of about $7,000 every year for Battle For The Paddle and we would only do a few fundraisers. This year we put a lot of work into incorporating a lot of new fundraisers to help us raise more money and give back to our community. With all of our fundraising that we have done this year, we have raised over $34,000." 
There have been several fundraisers held this year.
Kalbaugh was very proud of all of the fundraisers that the student council put together so far this year. 
Kalbaugh said they raised the most amount of money during The Battle For The Paddle week. 
Some of the fundraisers were the Frozen 5k, bingo night, Buffalo Wild Wings night, a penny drive, and extended lunch passes "that got you out of your fourth period 10 minutes early and your fifth period 10 late." 
All of these fundraisers were part of The Battle For The Paddle, which ultimately helped the school beat Sandpoint and keep the paddle. 
One of the bigger fundraisers that raised the most money was the Frozen 5k. 
Kalbaugh was very happy with the results from the Frozen 5k.
"Our most successful fundraiser this year is the Frozen 5k fun. With sponsorships from local businesses and runner registration, we usually make about half of our total money raised." 
The student council also had a fundraiser that helped a specific person in the community.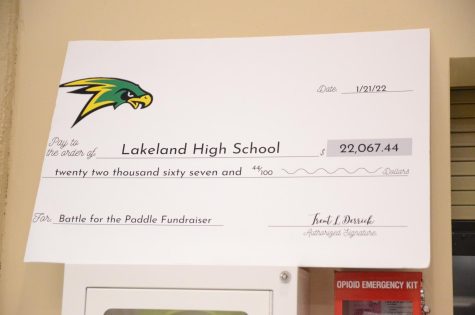 Kalbaugh was very happy the school was able to raise a huge amount of money for a person in need.
"At the beginning of the year, we raised money for our former custodian Walt's wife, Connie. We raised $12,000 for her."
Both Kalbaugh and Wiedenhoff are extremely grateful for how involved Lakeland students were. 
Wiedenhoff mentioned, "overall, I am so impressed with our school and community for fundraising this year. It was really awesome to see our student body come together to raise money for a good cause.
"Overall, our goal as a student council is to give back to our school and community and I feel like this year we accomplished that." 
Kalbaugh was also impressed with the enormous amount of generosity the students at Lakeland showed. 
"I think that when students see that they are directly helping people in our community, they want to donate more money because each and every student truly does make a difference. Every student helped and was the reason we were able to raise so much money and I can't wait to see what they come up with next year." 
The fundraising that the student council worked hard on helped out many people in many different ways. Wiedenhoff, Kalbaugh, and all of the student council did an exceptional job finding ways to raise money for good causes.