Cheer Takes home Districts
On January 29th, the Lakeland girls cheer team took home the 4A Districts trophy and are heading to state.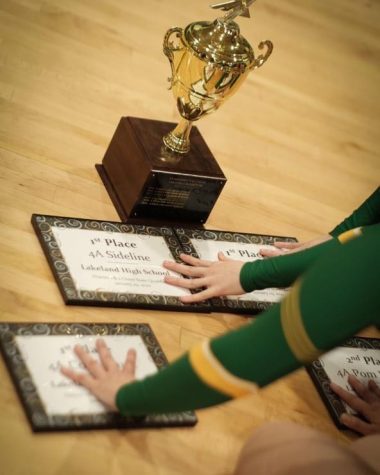 The girls took first place in show, stunt, sideline, and finished second in pom.  
The cheer team has been successful under the wings of Cynthia Peck, head coach of the cheer team. Under her leadership, the team has won 4 of the 5 district competitions. 
"I'm super excited and super proud of them, it was a lot of hard work for them."
Coach Peck compares her team's scores to the surrounding 5A schools in the area. 
Their scores are up to par with 5A schools, despite Lakeland being 4A. The stunt is one of the strongest events at Lakeland, scoring more points than the 5A schools. 
The team has gone through lots of change, having lost 18 members in the past two years due to seniors graduating. Yet, the team still continues to succeed with their veterans and new talents. 
Senior captains such as Gracie Haslip and Emma Zelene have helped lead this team to another district title. 
Zelene, being her fourth year in cheer, described winning district, "It's a thrilling experience with lots of emotion and feelings of self-accomplishment throughout the team."
Her leadership has been displayed throughout the entire season, "You have to encourage the team even when stakes are high and morale is low. I am so proud to be able to call myself captain of such an amazing team of people who always try their best and never quit no matter what."
Coach Peck described her time with Zelene as "Able to watch her blossom as a person, become a great leader to her teammates."
Gracie Haslip is another captain on the cheer team, who had to learn quickly how cheer works. Her older sister was on the cheer team and decided to try out for cheer her second year. 
"Not knowing a thing about cheer her freshman year, didn't even try out, she has progressed and become one of our best bases," Coach Peck said about Haslip. 
The Lakeland cheer team will leave for Pochatella for the state competition on Thursday, February 10th.