Blazin at Buffalo
David Tesch runs to the bathroom with tears and snot running down his face. Twenty minutes prior, he committed to a ten-wing blazin' challenge.
Lakeland High School held a Buffalo Wild Wings fundraiser on Jan. 17. Four Lakeland students agreed to tackle the blazin' wings challenge for Monday's fundraiser for Battle for the Paddle. 
The first of the four contestants, Chase Burcham, ate six wings in under five minutes but had to tap out before eating the final four. When asked about his friend's performance, Richie Thomas said, "Chase did a great job, but I'm pretty sure he has third-degree burns in his mouth."
In order to not waste the final four extremely spicy wings, David Tesch accepted a $5 bet to finish all four remaining chicken wings. Just for reference, Tesch had difficulty choking down one single Buffalo Wing(5,000 Scoville units) but was able to easily eat four blazin' wings(two million Scoville units). 
After eating four blazin' wings successfully in under 45 seconds, Tesch made a decision to try a plate of ten more for himself. At a much hotter temperature than they were the first time, Tesch was only able to eat six before having to run to the bathroom with milk and wet wipes. Just minutes after leaving the restaurant, Tesch said, "I can't do anything until I have my Pepto Bismol," and ran to a nearby Super 1 to relieve his pain with a bottle of pink magic liquid.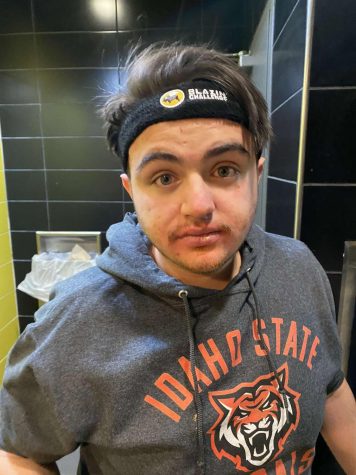 At 6:30, Richie Thomas and Mason Burcham faced off in a blazin' challenge of their own. However, each of them struggled greatly with the extreme spice levels. Burcham could only eat one wing and missed school on Tuesday to recover from his injuries. 
Thomas ate two in under five minutes, winning the challenge against Burcham, which 67 percent of voters predicted. 
Many Lakeland students and staff attended the Wild Wings night, and our school has raised a good amount of money so far for Battle for the Paddle.