The Legend of Drama State
The Lakeland Drama Department had their district tournament at Lake City High School on Saturday, November 20th. Many schools from around the area attended and had their students compete in many things such as costumes, makeup, props, and set design. 
Yet one student at Lakeland stood out from the rest, that student is Thomas Tesch. 
Thomas Tesch is a sophomore at Lakeland High School and a member of the stagecraft class at Lakeland. 
Tesch finished 3rd in props for the drama districts. 
Tesch's feelings about making it to state are described as mixed. 
"It's great that I'm the one from Lakeland going, and weird as this is the first time I have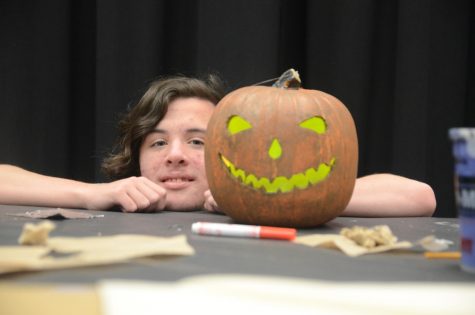 gone to anything for the state, also seeing other people put a lot of work into their projects and not going is a mixed feeling"
Stagecraft is one of the many classes offered at Lakeland, which happens to be Tesch's favorite class. 
"It was really nice to find that group of people that you click with, Stagecraft and the entire drama department has become a second home for a lot of people, and I have always found a lot of joy in seeing other people happy." 
Allison Knoll, the drama and stagecraft teacher at Lakeland was proud of Tesch. 
"Thomas is a hard worker and he has been working on this project since I first assigned it, I never had to tell him to get to work, took a lot of pride in his project and it paid off."
Knoll believes that it will be very good for the drama department for Tesch to make it to state, as it's a way to see what makes you go to state and be able to help others reach what he has reached. 
As the lead position in lights for the drama department, Tesch has been more than willing to help other classmates with stuff they are doing inside the drama department. 
The Stagecraft class had to make a project for districts, as it's one of their grades for the class. 
"I wanted to do something that was recognizable, but most people didn't really know about it," Tesch said about his project. 
Tesch ended up choosing The Headless Horseman prop from The Legend of Sleepy Hollow. 
Traditional folklore holds that the Horseman was a Hessian trooper who was killed during the Battle of White Plains in 1776. He was decapitated by an American cannonball, and the shattered remains of his head were left on the battlefield while his comrades hastily carried his body away.
"Most people know about the headless horseman as he is up there with Halloween Icons."
Throughout the time working on the project, Tesch got a foam pumpkin, painted it brown, and watered the paint down to make it appear as mud. Then put a light inside the pumpkin to give the impression of a headless horseman pumpkin. Finally, a fly system was put on the pumpkin with a fishing line, to be able to fly around the stage like in the play. 
 "For me, it was a lot of trying to think of stories and ideas that could be easily transformed into stage form"
This pumpkin design is what got him to place 3rd at districts and be able to participate at state. 
"Some ideas won't work, but if you really believe in an idea, and you're confident with it, go for it, sometimes the greatest stories and shows, no one wanted to do because it was too risky, but the person believed it would work and went with it."