New Addition to Basketball Coaching Staff
Basketball season at Lakeland is quickly approaching, and for the Lady Hawks, they get a new coach on the team in Sarah Nave.
Sarah Nave is a teacher at Lakeland High School, who teaches classes such as Teen Living, Food and Nutrition, and International Cuisine. 
The 2nd year Lakeland teacher attended and graduated from Lakeland High School in 2002.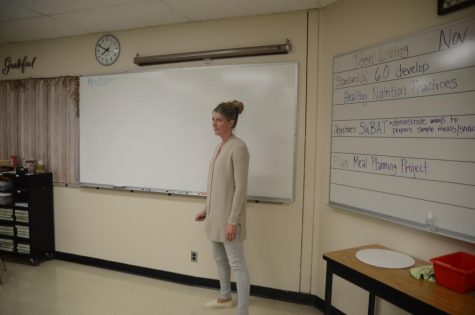 In high school, Nave competed in basketball, volleyball, and track.  Nave was a part of the back-to-back state championship basketball teams and the state championship track team.
"I love sports and I loved my time competing for Lakeland. I'm a super competitive person"
Steve Seymour, a teacher and coach at Lakeland High School for over 30 years, who coached Nave when she was a player described Nave as a terrific player. 
 "One of the best atheltes that have walked through this building since I have been here"
After graduating high school, Nave attended the University of Idaho in Moscow, Idaho. 
Nave returned to Lakeland as a teacher, and this will be her first year coaching the girl's basketball team, alongside Coach Seymour and Coach Lange. 
Nave brings fresh perspective to the basketball program. Seymour stated, "Some of the quailties she had as a player, being pretty hardworking and determined, which we will also see that as a coach" 
When finding out the news that Nave would become a coach for the girl's basketball team, she was ecstatic. 
"I was very excited when I found out I got the job.  It's a great opportunity to not only work with the kids and help build the program, but I'm also excited to get to coach alongside my two former coaches."
Nave loves the opportunity to be able to coach players and help them grow as players and people, hoping to make the same impact as her coaches had on her when she was a high school athlete. 
"Sports have so much to offer kids and we can learn so many life lessons by competing.  I know the impact sports and the coaches made in my life and I want to share that with the athletes here at Lakeland."
Nave hopes to make a big difference in the girl's basketball program, and with long-time coaches along her side. The future is bright for this new coach.