On the Brink of Bald
Many sports teams are known to show spirit and camaraderie before big events by making some type of change to their appearance showing brotherhood and teamwork.
Typically, these changes have something to do with the whole team making the same change to their hair or part of their uniform. Well, for the Lakeland Hawks track and field team, they had something in mind before heading down to state.
On the bus ride back home from the district meet in Lewiston, Richie Thomas suggested that the team should shave their heads. For the most part, everyone agreed, however the group had a tough time convincing Alden Waddington, but eventually he caved.
"We all kind of just went along with it, but it took us a minute to get Alden to agree," John Cornish stated.
Ammon Munyer decided to show off his potential as a barber and shaved the whole group. Monday night, Munyer cut the hair of John Cornish, Thomas Calder, Richie Thomas, Alden Waddington, Josh Haug and Bryce Henry.
Thomas Calder said that he was happy with his haircut and thought it was awesome that the team decided to make the decision.
"It feels weird, but I like it and I love all the looks I get," Calder said.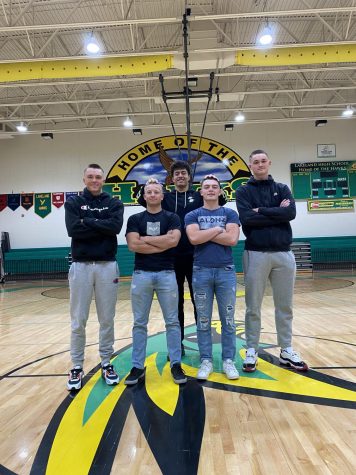 Munyer definitely did a great job with all the haircuts and when asked about it, Ammon responded with "I shaved all of them in a row with no breaks and just got it done quickly."
John Cornish loves his hair.
"I can't stop touching it," Cornish said. "Ammon definitely gave me a fresh fade." He also described how Ammon was holding his arm because it was so sore from cutting all the hair.
When Alden Waddington was asked about his hair, he just responded with " yes sir."
Richie Thomas explained that the idea just came to him when he was on the bus and he was surprised that everyone just went with it.
Cornish, Calder, Waddington and Thomas are all part of the Men's 4X100 relay and placed first in Districts, advancing to State.
The Hawks will go down to Boise on Thursday for the state tournament, rocking their fresh cuts