Ready For Spring Break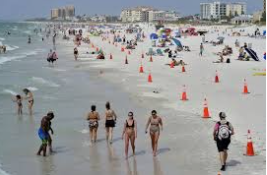 One year after COVID-19 and Spring Break season is in full swing! Spring Break at Lakeland High school starts March 26 and ends April 4. Spring break is the time when you know that there is only one quarter of school left for the year. 
Spring break is when we have a week off from school to have a break before the 4th quarter. Most students either catch up on sleep or go on vacation. It is also a fun time to hang out with your friends. 
At  Lakeland High School most students love spring break and so do the teachers and staff. It is such a fun break for most students. 
COVID-19 may be an issue for spring break. In some states after spring break there have been more COVID cases because of people traveling to different places.  
Last year, spring break helped cause some of the COVID outbreaks. So experts say this spring break may cause more Covid cases or an outbreak. 
To help stop the spread of COVID-19 during spring break there are many things you can do. You can wear two masks when you go on an airplane and get a COVID test before and after your vacation. 
At Lakeland High School, many students are traveling. The most popular places they are traveling are Idaho's neighboring states. That includes Washington, Montana, Oregon, and California. They are traveling there because you can drive to those places. Other students may even go to different countries or states far away. 
Some students are staying in North Idaho and simply sleeping. A lot of students have plans to hang out with their friends. 
I spoke to some students about their spring break plans and what they thought of spring break and if they enjoyed it. 
Brelyn Ganske, a sophomore at Lakeland High School said, "Yes, I wish it was at the same time as other schools in the area, I don't really do anything during spring break so I don't really mind. I am just going to clean my room during break."
I also spoke with Emily Knowles, a Sophomore at Lakeland High School said, "I am going to Las Vegas with one of my friends and I really like spring break." Most students at Lakeland love spring break and cannot wait for it to start on March 26, 2021. 
Lakeland High School students are definitely ready for spring break and waiting for school to be over and for the 4th quarter of the school year to start.