Popular Coffee Stands at LHS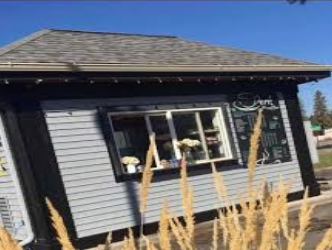 Most students at Lakeland High School get a coffee or other drinks at a coffee stand each day.
In North Idaho coffee stands are very popular. There are many places near Lakeland High School where students go to get coffee. 
The places to go get coffee near LHS are Perks Coffee, Bean Barn, Jitterz, Hasani Coffee CO., and Mcdonalds. There are more but those are the closest to Lakeland High School. 
Perks Coffee is a two minute walk from Lakeland High School and has early hours that are perfect for Lakeland students. It is very close to the high school and many students go there to get coffee. But, it also is more expensive than other coffee stands nearby and also is rumored to be not very good.
Bean Barn is another coffee stand near Lakeland High School. Bean Barn is a one minute walk from Lakeland High School. It is very popular and most students go there. 
They have a more variety of drinks than Perks and more popular drinks. But some students at Lakeland have told me that the coffee at Bean Barn is not very good.
Jitterz is also near Lakeland High School. Jitterz is a five minute drive from Lakeland High School. It is actually on the way to school from most houses in Rathdrum. Also if you live in Post Falls or other nearby towns it is on the way from there. 
Jitterz has many more people that go there because they have more locations and they are a chain of coffee stands. Some students have also said that the coffee at Jitterz is very good.
Hasani Coffee CO. is also pretty popular. It is a four minute drive from Lakeland High School. Hasani is a little less popular at Lakeland High School because it is not a coffee stand, it is a coffee shop and you have to walk inside to get coffee. 
People at Lakeland High School also say that they have good pastries and other food options.
Mcdonalds is also a very popular place that Lakeland students go to get coffee. The coffee there is cheap and very close to Lakeland. 
It is a three minute drive from the high school and has food also. They have good hours, but they do not have the energy drinks and some other drinks that some students like. 
Kaylee Alexander, a 10th grade student at LHS, said, "I really like Bean Barn because they have good drink flavors and are close to the school." I also talked to other students and Bean Barn and Jitterz are the most popular coffee stands near Lakeland. 
Overall, the most popular was Bean Barn and Jitterz, but Bean Barn was the most popular coffee stand.