'Intimacy'
How horrible the world would be if people could read each other's minds. Of course, there would be no lying, but I doubt most people could tolerate uncomfortable truths and controversial thoughts. Harsh realities would constantly ruin interpersonal relationships, and there would no be romanticism or privacy.
In the book "Intimacy" by the Pakistani English author Hanif Kureishi, the reader experiences precisely this, being situated in the mind of the protagonist of the book, Jay. And I won't lie; sometimes it is tough standing up to his thoughts.
Jay is a talented screenwriter and middle-aged family man who has been confined to unhappiness for years. Despite all his vices like the use of drugs and illegitimate relationships, he leads the source of his depression back to his family, especially to his mate. 
Susan is his neurotic and hyper-organized partner, who, more than enjoying her life, is always worried about planning it. In their relationship, there is no more tenderness or affection, so for Jay, it is clear that the best and only thing they can do is separate.
However, their two kids would be involved, and in the Seventies, when the book is set, these situations were less every day than today. 
Therefore, throughout the book, Jay discusses and reflects on whether to decide to leave home and move away from his family. 
In the fast and flowing stream of consciousness of his thoughts, the reader has the possibility to know many other characters that compose his life. One figure that is often presented interrupting the flow of thoughts with flashbacks and anecdotes, is Victor. He is Jay's best friend and a single man who has left his wife and children. 
Victor is the example Jay points to. However, it's undeniable that his best friend's life is not the most accomplished and happy. 
Another very recurring character in the book is Nina, the only woman Jay has ever loved. He is not even sure he has ever loved Susan, but with Nina, there's no doubt. 
After years spent together in an emblematic relationship dotted with betrayals, misunderstandings, and irrepressible passion, their paths are divided, but in Jay's mind, the memory of Nina is still vivid. 
I dare say that Nina is the only glimmer of light in his desperation, but this forces him to live in the past.
In a storytelling time and literary style that reminds a lot of "The Catcher in the Rye," this book can be brutally honest enough to provoke mixed reactions in readers who either love or hate this novel. 
I understand those who think this is the unnecessary story of a selfish man wanting to end a stable relationship to chaise ideal, non-existent happiness, and immature love. But I also think we are all selfish when it comes to searching for our joy. And the vulgarity, controversy, and all the worst qualities that define the human being make this book so true.
Strange to say, but I hated the protagonist and his poor decisions and thoughts, and at the same time, I loved the book in all its poetry and cues to think about. 
This is one of those works that doesn't make you dream or indicate what is good in life; on the contrary, it teaches what can deteriorate it.
Leave a Comment
About the Contributor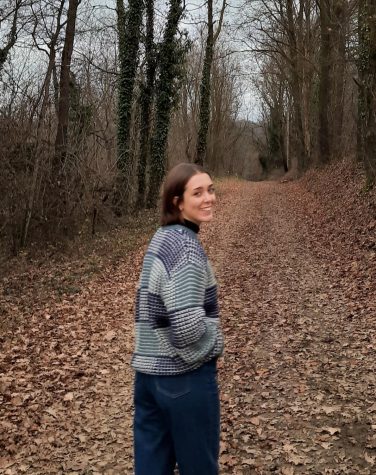 Sofia Meritano, General Assignment
Be brave enough to catch your star