Put Down the Remote, Go Out and Vote
Lakeland High School's strong student body brings excellent leadership to the school.
Students that show great responsibility and trustworthiness are those who will get elected.
The upcoming school year's sophomore presidential candidates are Amanda Olson and Brock Raebel. They are two students who are very reliable to their classmates and show a great deal of leadership.
Olson is a sophomore who cares about her class and the well-being of her peers. She has a lot of experience with being a class officer because she was her eighth-grade class president, and she is the current public relations officer. She has plans to support every sports group and school club. One of her goals is to bring the student body together in new activities and events that will encourage them to have more spirit.
"I have had three years of leadership experience. I feel that people look up to me when trying to solve a problem or need help," Olson said. "I have great plans to bring my peers together and participate in more school activities."
Raebel has had his freshman year to gain experience as class president. Raebel is a dedicated student who works hard when he wants to achieve something.
One of his goals is to make sure that the communication from the freshman student body is heard. He is a good communicator and knows how to branch out well with everyone.
"I want to make sure communication is successful between my class and the student body," Raebel said, "I think I can branch out well with others and have different perspectives."
The sophomore class vice president will be Charlie Mattila.
Mattila considers himself funny and kind. These are two qualities that go well with being a vice president.
Mattilia has many goals, but he is unsure if he will succeed in achieving them all.
"I'm hoping to achieve a lot even though I might not get as much say as the ASB and President," said Mattila.
The new public relations officer will be Christopher Fetting.
Fetting wants to do this to have a say in what happens and build relationships with his peers. He hopes that by being a public relations officer, he will gain respect from his class.
He is a dedicated student who has enjoyed his previous two years in leadership.
The student body will not decide the winner for class representative. They will be determined by the ASB officers.
Brenna Brownsberger, Daniel Killian, and Piper Schneider are all running for class representative.
Brenna Brownsberger wants to be able to help out at her school.
Daniel Killian is a dedicated athlete and student. He puts total effort into everything he does.
Killian feels he is suitable for this position because he is funny and has good grades.
Piper Schneider is a caring individual who wants to play a part in her class office to take away some of the higher-up officers' stresses.
Schneider would have run for a different position but felt she was not prepared enough. However, she is more than happy to be representing her class.
The soon-to-be junior class has some of its strongest students running.
Elizabeth Duce and Samuel Locke are both running for president. They both show great character.
Duce wants to bring more positivity to the school. Being different can be challenging, and not feeling comfortable coming to school or being authentic can be difficult.
"My goal is to make sure that everyone has a positive impact at school," Duce said. "Being on the receiving end of negativity made me realize I do not want anyone to feel like that."
Samuel Locke is the current sophomore president and has done a great job at showing how dedicated he is to his peers and school.
Locke is running because he wants his class to know they have someone they can come to with any ideas or even things that need to be resolved.
"I want my peers to know I am there for them," said Locke.
Locke wants people to thrive and succeed and wants to do his part in helping with that.
Every great president has a VP.
This year's candidates are Bailey Elliot and Maverick Gerrior.
These students show great care and interest in how their class does overall.
Elliot is a hard worker. She does her best to maintain good grades and get to know as many people as possible at every chance.
"I do quite a bit in student council, so I feel that this will come to me naturally," Elliot said. "I ran last year, but I did not win. Hopefully, I will win this year and show my class that I am here for them."
Maverick Gerrior is a helpful and honest student. Honesty is a vital trait when in a major position. "I am honest and responsible, and I stay true to my word," said Gerrior.
Running unopposed for public relations is Paige Stranahan.
Stranahan considers herself a great communicator. Her goal is to get input from others and to keep the school informed on new events so that they can be there.
This year's candidate for class representative is Colton Cleiman.
Cleiman is a dedicated student and works hard with his goals in mind. His goal for this coming year is to help out with school activities like homecoming and Prom to make them the best they can be.
The upcoming senior class may have a little bit of a struggle because the only candidate for anything is Ben Ryan, who is running for president.
Remember, the class elections assembly will be held on Friday, May 12.
Leave a Comment
About the Contributor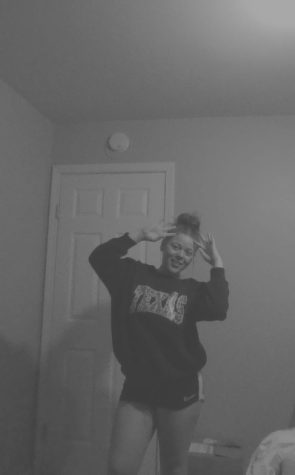 Johnnay Williams, News Writer


We have tomorrows for a reason